I have a couple of photos here of MAC Cosmetics' upcoming collections. You might have already heard of the upcoming Fabulous Felines collection for Fall 2010, which is inspired by cats. Also on the books is the MAC x Disney collection of Venomous Villains, which unusually celebrates the glamorous, regal beauty of Disney's villains instead of the many insipid heros and heroines. And finally, a MAC x Rodarte collection that has been attracting a wave of controversy online which I shall not get into here.
Items from all these collections form a part of MAC's Autumn/Winter 2010 trend looks which I'll tell you about in a future post. For now, I leave you with some sneak preview photos below 🙂
One of the upcoming Mineralize Eyeshadows in Venomous Villains under Maleficent (from Sleeping Beauty) called My Dark Magic. Its a duo eyeshadow with shimmery dark purple-pink and purple-black. Looks amazing no?
New lipgloss called Dare to Wear lipglass featuring intense, shimmery, pigmented lip colours.
Also, a new 2 in 1 mascara called Haute and Naughty featuring 2 brushes – 1 to create a lighter day look, 1 for a more intense evening look for more glamourous looking "fashion lashes".
Finally from the MAC x Rodarte collection, comes a very unique looking mineralize eyeshadow in Bordertown.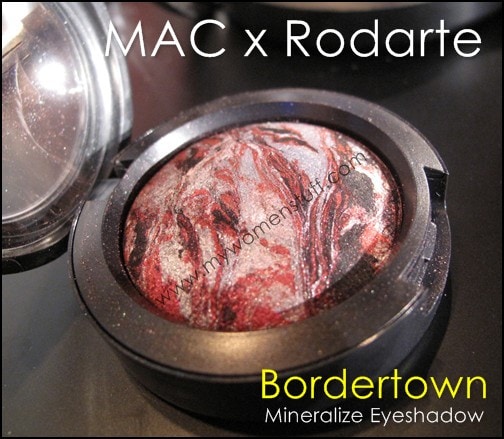 Bordertown, described as "black with red, pale blue and silver veining", looks almost like a planet seen from afar. I'm told it swatches a black-grey shade but as I did not swatch it, I will not place my money on that.
That's it then. Some quick photos I managed to get, which might or might not whet your appetite for what MAC and Fall 2010 has in store for you 🙂
Hope you enjoyed them and I'll bring you any further updates or photos as and when I can get them.
Now, which might you have your eyes on? I think I'd only really be watching out for Venomous Villains because I grew up with Disney cartoons and I love the Evil Queens and Wicked Stepmothers! 😀
Paris B