Happy Saturday Ladies!
This weekend is going to be a quiet one for me. I have however, been itching to re-colour my hair. The last time I did, I got highlights which were really nice but I allowed them to grow out, not intending to colour my hair again (until I start greying 😛 ) but after finding out about this new ammonia free hair colourant called INOA, I'm itching to take my hair deep purple!
I'll tell you more about it below. For now, take a breather and see what my beauty blogging gal pals have been up to in July!
So coming back to my hair colour. I have been contemplating going deep purple ever since I saw it done on a model when they launched INOA. What's INOA then? (I have a bit of a hair colour dilemma you can vote on below 😉 Help! )
INOA is a new revolutionary hair colour from L'Oreal Professional. Its an ammonia-free in salon hair colour that does not stink and is comfortable on your scalp and covers grey hair by 100%.
I think its all great because one of the things that puts me off colouring my hair is the strong chemical smell and that funny tingling I get on my scalp whenever the chemicals touch it. When I'm done, it always feels like my hair is about to fall off 😛
I can vouch for the no smell bit. You know how when you walk into a salon and you just know someone's having their hair coloured by that sharp acrid smell of ammonia that hits your nose? This time, you smell nothing. The bowl of chemicals was directly under my nose and I still smelt nothing. Very convincing!
INOA is currently available only at L'Oreal Professional salons and I'm seriously contemplating going purple. But I'll need to find the time (and a salon and how much it'll cost) before I do that. What d'ya think? Purple suit me? 🙂
But while I don't have the time, I might do some home hair colouring with the new Kao Liese Bubble Hair Colour (available in pharmacies from August 2010). Which shall I use – Mocha Orange or Chestnut Brown?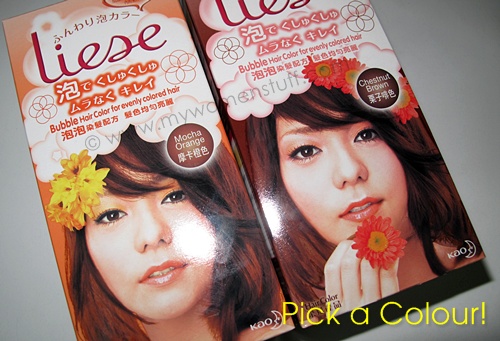 Both are very safe colours – not quite as drastic as purple 😛 Although Kao Liese does have one in pink that might be quite interesting 😛
I'll color my hair with whichever colour gets the most votes – Mocha Orange or Chestnut Brown. Vote in the comments box below! 😀
Happy weekend!
Paris B