I picked this one up together with the Biovalley Alpine Mint & Herbal shampoo. While I rather enjoyed using the former for its fresh minty feel, I'm not very happy with this shower cream. Lucky it comes in a small size bottle.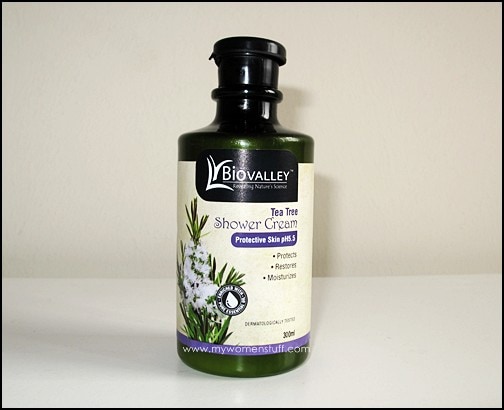 I wanted to try the Rosemary & Geranium Shower Cream at first, because it sounds lovely. However, I did not like how it smells. It did not smell of Geranium, or what I associate the smell of Geranium to be so I passed and went for Tea Tree instead.
This has a powdery scent with just a hint of the astringent Tea Tree Oil smell. Too little of a hint for me – I like the smell of Tea Tree Oil so I found the powder smell too overwhelming. What I cannot get over is the texture of this shower cream. It feels and looks like the glue my late gran used to cook up 😛
I don't know if you remember this, but when I was a kid, my granny used to make glue for me from starch. I think she'd cook up the starch till it becomes opaque and gummy. This is how the shower cream feels and looks.
When I squeeze it out of the bottle, if I let go before the dollop of cream falls into my palm, it all gets pulled back into the bottle. Provided me moments of fun initially until I got fed up with it.
Otherwise, it cleans the skin decently enough, though I don't get the lovely CLEAN feel that I do with the Indocine Naturals body wash. This one leaves you clean but not with that CLEAN feel – if you get what I mean.
Used together with the shampoo, my hands peeled like crazy. Used separately, they don't fare so badly although the skin on my hands still dry up. Like the shampoo, this is SLS and Paraben free. But as commentators have noted, Ammonium Laureth Sulfate is just as abrasive if not more.
Its cheap though. The 300ml bottle cost just RM8.90 or thereabouts. I picked mine up at Carrefour supermarket.
Pros: Affordable, cleans skin a treat without drying

Cons: Reminds me of glue, Dried the skin on my hands, Scent isn't pleasing
I don't like the scents they come in and I'd prefer if they made the texture more like that of the shampoo – clear and free flowing, rather than thick and gummy. Not something I'd repurchase at all. In fact, not something I want to continue to use in my shower but I do just because its there 😛
Paris B
BioValley Tea Tree Shower Cream 300ml retails at RM8.90 or so at Carrefour hypermarkets and some Guardian pharmacies