If ever I had a reader to blame for making me pick up yet another Benefit Creaseless Cream Eyeshadow, it would be you Anis! Thanks to Anis' comment, I ran over to StrawberryNET.com to pick out Birthday Suit for US$13 during the sale that I told you about when I reviewed Strut.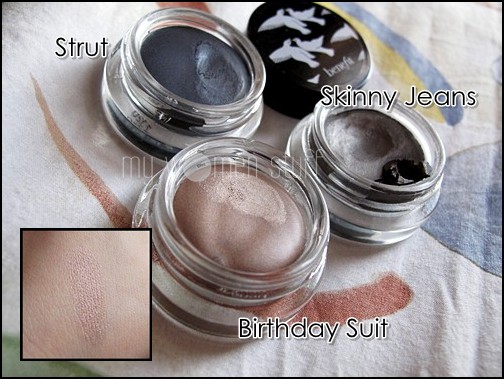 It got here a while ago, but I didn't do anything with it. Part of the reason is because it swatched a little darker than I expected on my skin. However, I liked the subtle shimmer it had. Its like "now you see it, now you don't" which is very pretty.
I experimented one day using just cream shadows for the eyes and wowza! I loved the look! I used the 3 Benefit Creaseless Cream Eyeshadows I own – Strut, Skinny Jeans and Birthday Suit.
Just quickly, Birthday Suit is a neutral cream eyeshadow that swatches a little beige on my skin with very subtle shimmer. Like the other Benefit cream shadows, this one lasts all day long on me without creasing and without making my lids feel dry. It swipes like buttah!
Here's a picture of how I used Birthday Suit with Strut and Skinny Jeans.
Apply Strut close to the lash line blended upwards
Apply Skinny Jeans on the lid and blend with Strut
Apply Birthday Suit on the inner corner and on the outer part of the lid, blending in the colours
I did a subtle wash of colour which looks way more intense and better in person than in pictures. Depending on how much of each colour you use, you can end up with a pretty smokey evening look or a fresh day look. I had lots of fun playing with this!
The other nice thing is that since these are cream shadows and long lasting on my lids, I used them a lot when I go out and about. These were the only eyeshadows I took on my trip to Singapore last weekend where I spent a lot of time walking and out in the sun. Lasted through my sweaty days hurrah!
Pros: Very Smooth, Lasts all day on my lids, Intense colour, Creaseless (!!)

Cons: Can be considered pricey unless you grab it during a sale, Glass bottles are heavy and bulky to travel with
I like using Birthday Suit by itself with just eyeliner and mascara. It has a great way of making the eyes look polished and yet you look natural. Its like you have makeup on… but you don't. Awesome! 😀
I use my fingers to apply these cream shadows, but you can use a synthetic brush, if you prefer using brushes. I don't think I'll be getting anymore Benefit Creaseless Cream shadows for now because none of the other colours really grab me. But then, never say never! 😉
Do you have thoughts on these cream shadows? Do they work well for you too?
Paris B
Benefit Creaseless Cream Eyeshadows retail at about RM85 at Benefit Cosmetics' counters or US$19 at benefitcosmetics.com. I get mine from StrawberryNET.com when they go on sale or from benefitcosmetics.com