The Clinique Lash Power Volumizing Mascara was launched early this year with the Juiced up Color spring 2010 collection. What it is, is a volumizing mascara and can I just say how much I'm enjoying using this one?
What I really really like about this Clinique Lash Power mascara is the brush. It is slim and small and for girls with small eyes or short lashes, brushes like this are a boon! Not all of us can handle big brushes – especially not if you are new to makeup and mascara.
The slim brush gets all the little lashes and smudges are minimal. I really like it too for the lower lashes – because the brush is so little, it can pick up the lower lashes without too much mascara getting onto my skin. Awesome! I'll show you how it looks on lashes below.
In terms of adding volume to lashes, I'd say it does its job well. I have been using it for over a month now and its quick to apply, dries quickly and my lashes look pretty visible once I'm done. I find 2 coats does the trick. More than that and it can be a little thick.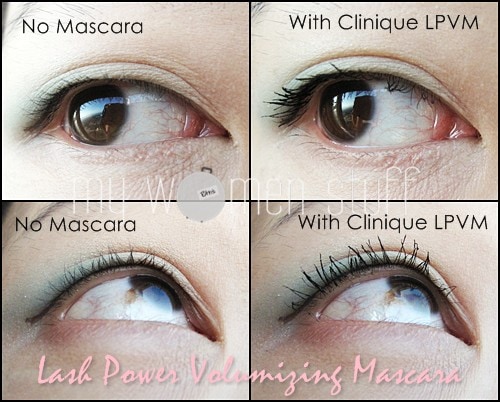 I personally did not experience too much clumping, so really, I'm very happy with this mascara. The only thing I might have a bit of complaint about is that its quite hard to remove with cleansing oil.
I learnt through trial and error that this is one of those mascaras that are best removed with eye makeup remover. When I use cleansing oil, it takes me forever. When I use eye makeup remover, it wipes off very easily.
Update: I've just been informed that the mascara is thermal activated so it washes off easily with warm water. I will try this! 😀
Its not cheap (RM75) but it does its job and I'd pay just for that brush! Get it if you like small brushes and need volume not length.
Pros: Small brush suits small eyes and short lashes and newbies to mascara, Adds volume to lashes, Does not weigh lashes down

Cons: Hard to remove with anything other than eye makeup remover
This is my first ever Clinique mascara. Yep! Never tried any Clinique mascara before this one. I'd use this for an everyday mascara. It makes my lashes look good – not crazy long but long and thick enough to be visible – which is what really matters. If you want something with more va-va-voom and you have short lashes, this might not be for you.
Have you tried this one? I'm so impressed with this one, I'm thinking of trying another Clinique mascara – do you have any you like? 😀
Paris B
The Clinique Lash Power Volumizing Mascara comes in one color – Black Onyx a deep dark black and retails at RM75 at all Clinique counters.