I had my first taste of gelato in Italy. Before I went, I read up on everything I had to eat and do there and gelato stood out. I was warned repeatedly about taking a banana flavoured gelato.
The general rule is that if you want to check if the store sells gelato that is really freshly made from fruits, look at the Banana one. If its yellow, its colouring – stay away because the other flavours may be colouring too. If its grey, go for it! It made sense. If you have ever mashed up a banana, you'd realize that its not yellow – its grey. I'm not sure if gelato stores started colouring their banana flavoured ice creams grey LOL…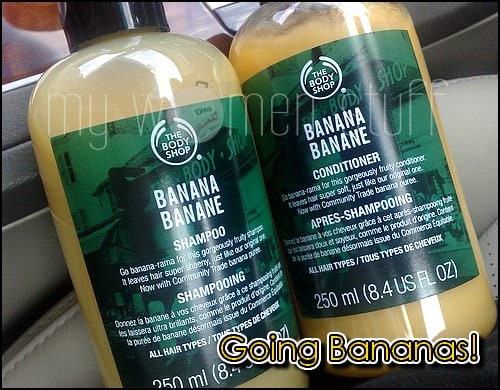 Anyway you are probably wondering what my story about Italian gelato has to do with shampoo and conditioner. I should have borne my banana gelato in mind when I bought The Body Shop Originals Banana Shampoo and Conditioner.
They are bright yellow in the bottle.
I don't recall the original version and I'd never used it so I have no basis for comparison unlike the Passionfruit gel cleanser.
My initial reaction when I took a sniff was that the shampoo and conditioner smells strongly of coconut overlaying banana. Quite a strange smell albeit not unpleasant.
When I wash my hair, I end up smelling like a fruity dessert. Again, not quite unpleasant. The shampoo isn't anything to shout about. My hair felt a little dry and tangled upon washing. The conditioner works to detangle hair but does not leave it super soft if that's what you like.
I did however run into 1 major problem.
While I was using this, I realized that the skin on my hands got very dry and were starting to peel. Not quite contact dermatitis like the last problem I had, but it was horrible! I looked like I had some major skin disease and it was quite embarrassing.
I tried hard to cure it with hand creams but nothing worked. It just got steadily worse. As I do when treating a problem, I cut back on my skincare products and finally, it was down to this. So, I stopped using the Banana shampoo and conditioner altogether for 2 weeks.
The skin on my hands started to heal and they looked normal. I went back to using the shampoo and conditioner and 2 days later, my hands started to peel again. Again I stopped and again things went back to normal.
Conclusion. Something in the shampoo and conditioner is killing the skin of my hands! Incidentally, its not just the haircare. Much as I love the body wash from The Body Shop (and I have a LOT) I've realized that they kill my hands one way or another.
I either end up with contact dermatitis or dry peeling skin. Its not just one off. I've tried many and these conditions manifest after about a week's use. This is also happening only recently – in the past 1 year – previously I had no problems. I'm not sure if something has changed in their formula in the past 1 year but I'm staying away for now.
I'm now using The Body Shop Banana shampoo and conditioner quite sparingly. I use them once or twice and then move on, so my hands don't react to the formula. I've paid for these so I've got no choice but to use them up.
Pros: Conditioner leaves hair untangled

Cons: Formula kills my hands, Shampoo is a little drying, Smells of Coconut instead of Banana
You can be sure that after these few episodes, I'm not going to go crazy at The Body Shop sales anymore. Their skincare is alright for me and some of it actually work really well; but I was always more of a fan of their body washes. I guess that's no more until they work out what's in their formula that's killing the skin on my hands 😛
How did you like the Banana Shampoo and Conditioner? Do you react to products from The Body Shop too?
Paris B
The Body Shop Originals Banana Shampoo and Conditioner are limited edition and retail at RM35 each.