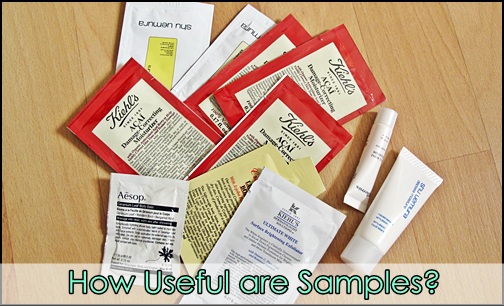 I was clearing up my drawers recently and stumbled on a cache of sample sachets of products that I had picked up or were given to me. 2 years ago I told you I keep a boxful of samples for various reasons and it looks like old habits die hard 😛 Interestingly, they were products which I was quite interested in at one point and wanted to test out before investing.
However, I realized that while some items are easily tested e.g. cleansers, I find some other products e.g. serums or moisturizers in sachets, insufficient for purposes of testing. From my experience, I've actually had a good experience with a sample sachet of product that lasts me say 3 applications but once I buy the full size product, I run into problems 2 weeks later because that's the time it takes for my skin to adjust.
Also, I don't know how true this is, but I read somewhere a while back, that sometimes, sample sachets contain products that might be good, but it might not be the same formulation as the full size product. As in, the product in the sample sachet might be of better quality than what you get in the full size product. Bothered me for a long while although it is probably just an urban myth that all companies will debunk. Or perhaps that only applied to washing powder 😛
However, I suppose getting samples is better than getting no samples at all. It gives you the chance to try the product for texture and scent if nothing else. If you have very sensitive skin, then it is a boon because any problems will show up almost immediately. Better than wasting money on a full sized product.
Speaking for myself, samples have been useful for finding out if shampoo works for my hair and whether a foundation works for me; and I like fragrance samples because I can figure out almost immediately if a scent works for me. I find samples useful for travel as I have said before. But then I have skin like an elephant (sometimes) so I can handle pretty much anything on the go 😉
Otherwise, for purposes of testing moisturizers and serums and treatment products like masks, unless I get a lot of sachets, I find sample sachets quite insufficient for my purposes. Your take on this? Are sachet samples of products useful to you or not?
Paris B