Updated! Scroll down for Sandra Bullock's makeup breakdown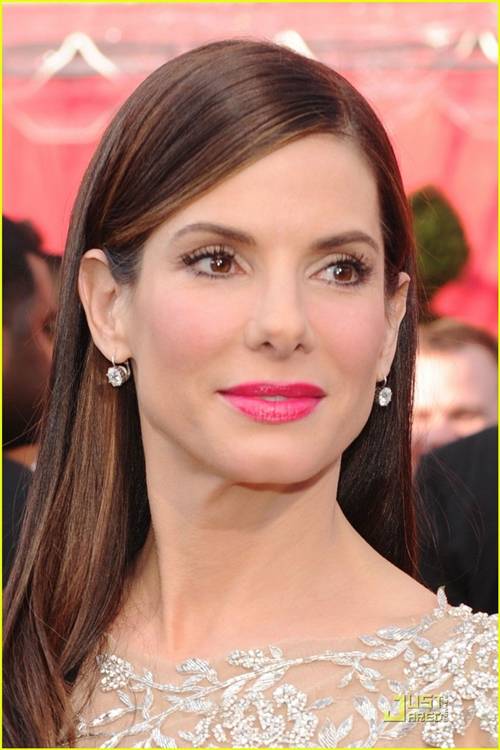 I'm a great fan of Sandra Bullock ever since her Speed days with Keanu Reeves. Anyone remember their hearts going pit-a-pat at the then newly buff sleek looking Keanu? 😛
This morning, when I saw pictures of Sandra Bullock at the 2010 Oscars, I thought she looked amazing. That gold embroidered dress (vintage Marchesa) was elegant and made her look ethereal. Also props to her makeup artist for keeping everything neutral and then giving Sandra that brilliant pop of fuchsia lipstick! I love it!
Images from Just Jared
Even better to read later in the day that Sandra Bullock won Best Actress for her role in Blind Side. I guess I have to watch Blind Side now that she's won Best Actress. LOL Congratulations Sandra Bullock!
What's your best memory of Sandra Bullock in a movie? Mine's still Speed although my most recent memory is of her in The Proposal with those gorgeous bags!
Update!
Sandra Bullock's Oscars 2010 makeup was by Chanel
Face: Chanel Sublimage Fluid; Vitalumiere Satin Smoothing Fluid Makeup in Shell
Eyes: Les Regards de Chanel palette; Chanel Inimitable Waterproof Mascara in Noir
Lips: Chanel Rouge Coco lip colour in Paris
Cheeks: Chanel Rouge Coco lip colour in Paris dabbed on cheeks
Sold! I cannot wait for Chanel Rouge Coco lipsticks to hit our counters!
Paris B