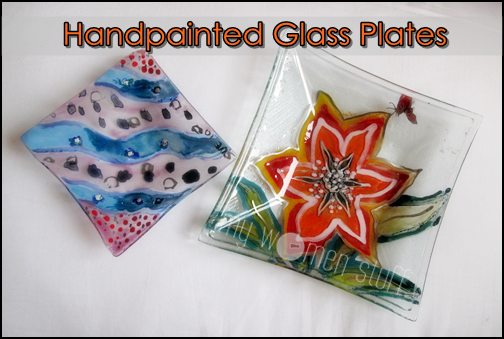 I am no artist as my pathetic attempts at art will show you. But when even I can produce amateur art pieces like these handpainted glass plates, you can just imagine the glass art that is produced by master glass artist Raja Azhar Idris.
Raja Azhar Idris is a world reknowned Malaysian glass artist and his house is testament to the love of his chosen art form. Glass is fragile and delicate and not kind to mistakes. Raja Azhar does not only paint on the glass, he moulds them into shapes and gives them texture so it is more glass sculpture than just mere art. I had the honour of touring his house recently and here were many art pieces in there that caught my eye, philistine though I am.
My favourite piece hangs in his kitchen. A large glass plate showing Raja Azhar's favourite foods of fish head curry and satay and hands reaching for it. Very appropriate choice for a kitchen and I loved the sense of humour it invokes 🙂
I have more pictures of other glass art pieces below. Be warned of large pictures 🙂
Other beautifully intricate pieces include this one of a female body dressed in a batik cheongsam – 1Malaysia at its best 😛 The art is painted on a flat sheet of glass and then Raja Azhar fires it up in his special kiln to mould it into the shape of a female body. The detailing is amazing.
Also gawk at his version of a table cloth. I had to do a double take when I saw these because I honestly thought that they were lace tablecloths. It turns out that it is moulded glass carefully controlled in the kiln to simulate the delicate drapery of a lace tablecloth.
And finally, we toured Raja Azhar's studio where he does his work. We learnt that only a certain type of glass is suitable for his art pieces and sculptures. Not any old glass will do! Some can't take the heat and crack under pressure. *sniggers at bad puns*
Also, we learnt that only certain paints will work on glass and stand up to the firing in the kiln. Some colours turn silver or gold after firing and one teeny tiny bottle can cost hundreds of dollars. So, spilling it was NOT an option 😛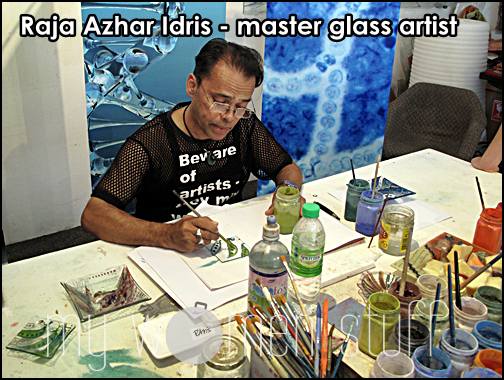 Raja Azhar does commissions by special request and I'm told he runs glass art classes too (check out www.artcase.com.my). I must admit to a certain sort of thrill in creating my own art piece but I just know that I'm too much of a perfectionist and have too much ego to ever be able to just "let go" and express myself artistically whether on canvas or on glass.
Also, I do not have an artistic bone in my body 😛 The glass plates above were conceptualized by me but I had a lot of help from Raja Azhar's apprentices or you can be sure it would never look THAT good 🙂
Have you ever indulged in any artistic pursuit of this sort? Its super fun although I confess to feeling a bit of pressure after seeing the other beautiful art creations by the other people present 😛 Yes, kiasu I am 😛
Paris B

p/s My visit to the home and studio of Raja Azhar Idris was courtesy of a Biotherm media event which I thoroughly enjoyed despite having to run away early for a meeting