Here's something from Shu Uemura I'm raving over. Rave rave rave!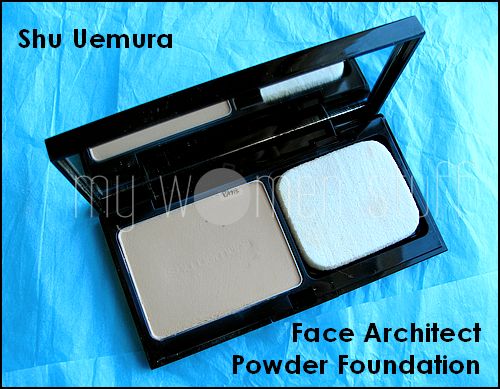 Its the new Shu Uemura Face Architect Glow Enhancing powder foundation. Powder foundation and I are friends and I've tried loads but recently, I've been favouring just 2 and one of them is this one by Shu Uemura.
Not only is the colour a perfect fit for my skin (#774 Medium Light) it glides on my skin like silk and feels like air. My skin actually feels velvety. Coverage is medium – if you layer it then you will get quite good coverage but you also risk it looking a bit powdery. Otherwise, if you use just 1 or 2 swipes, its just right. Shu Uemura says that it fits to your skin like a liquid foundation to which I must say there is some truth. You do get a smooth coverage as you would a liquid foundation yet this is a powder.
I have combination-dry skin and this powder foundation stays on me the whole day without making my skin feel dry nor does it make it oily. Whether it offers a glow is debatable. I've been a little obsessed with using my Guerlain Meteorites balls lately, so I sport a glow nonetheless 😛
No breakouts. No oxidization. Face Architect powder foundation is going to be a keeper!
The powder refill is RM125 and the sleek black case with sponge is RM50. Your 1st time purchase will therefore be RM175. The powder foundation contains SPF25 PA+++ and is available at Shu Uemura counters and boutiques. If you are in the USA, you can get it online.
Pros: Smooth and Light formula, Medium coverage, Lasts on my skin,

Cons: Some may find it pricey
Shu Uemura or Paul & Joe Powder Foundation?
The more intrepid of you must be wondering – Do I love this as much as I loved the Paul & Joe Dual Powder Foundation? My answer is Yes.
I love them both but as I pointed out in the previous review, the Paul & Joe powder has a slight pink cast while this Shu Uemura one fits my skin better. Both feel silky and velvety smooth on my skin. Both did not make me oily and both offer me medium coverage.
Paul & Joe pips Shu Uemura for pretty cases and perhaps price (but a few RM) but Shu Uemura's case appeals to those who like sleek lacquered boxes.
Which would I repurchase? Probably either depending on which is available. I'd place them both on the same ranking and since my Paul & Joe foundation is practically finished, I'm sticking to this Shu Uemura one for now. I can't say forever though – forever is a long time and I use up powder foundation quite often anyway 🙂
Tried this one yet? 🙂 Or how do you feel about using powder foundation? Its my foundation formula of choice.
p/s Picture colours are off. Lighting was bad 😛 But you don't quite need my pictures for foundation – you should try it for yourself! 😉
Paris B