Coach is a brand I've not spared a 2nd glance at for a long time. I was not terribly impressed with their latest designs or quality and needless to say, the super marked up prices here. But when the new Coach Kristin Collection landed in my mailbox, I did not only give it a 2nd glance, I went to check out the whole collection online and I found myself impressed.
The Kristin collection is something I can associate with Coach – the clean simple lines and classic designs that was what got me into Coach bags in the first place. I do have one caveat. My interest lies solely in the leather bags which come in one plain colour and gold or silver hardware, and look classic and elegant. The monogram canvas is still sadly getting two thumbs down from me.
Here are some of my favourite designs from the new Coach Kristin collection.
I am partial to hobo bags and the Kristin Leather Hobo (US$298) is a lovely simple design in some great colors. The yellow colour in fact, resembles a Coach hobo I own! The difference is that mine has no pocket on the front and does not come with a separate strap but has a strap that can be converted to a long one to carry the bag cross body. Also comes in a larger size.
The Kristin Leather Satchel (US$358) too appears to come with a separate strap so you can sling it on your shoulder. Personally, I feel satchels look best hand carried or carried in the crook of your arm. This one reminds me a little of the Rebecca Minkoff Morning After Mini bag that I own in terms of shape. It does look very roomy and I'm sure can fit a ton! I'm also very partial to satchel bags – the number of top handle bags I own is testament to that 🙂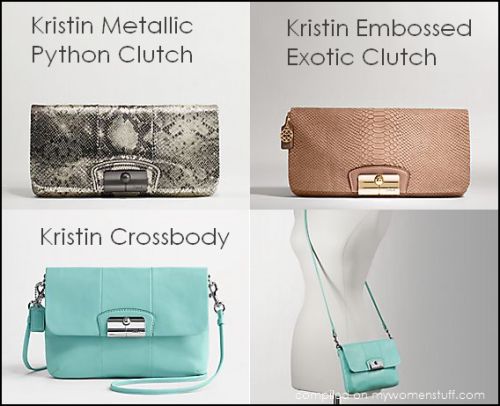 I love the look of the 2 Kristin clutches in Metallic Python and Embossed Exotic leather (both US$348). For those who are shuddering at the thought of carrying snakeskin take heart. Its not really python or snakeskin but a new Juno leather for Kristin that is embossed to look and feel like snakeskin. Another thing I like – the interior is bright pink! How's that for contrast 😀 I've love to check these two out. If you're still "geli" anyway, the clutches come in normal leather too 😀
And finally the last item that caught my eye was the Kristin Crossbody bag (US$158). If you pick it up in Turquoise, its cute and fun and great for a young girl or even a not so young girl 😉 Its great for travel that's for sure which makes it darned tempting for me!
I haven't been to the local Coach store yet to take a look at the Kristin collection in person. From past experience, Coach stores here do get the latest collections in quite quickly. The mark up will probably dampen my spirits I'm sure. But still, one never knows 😉 I'm currently on a bag ban but if I could get these at USA prices, I'd definitely find my resolve crumbling.
You can view the whole Kristin collection online. Go shop virtually and then come back and tell me which is your favourite so we can all share – you already know mine 🙂
Paris B
UPDATE MARCH 2010
I saw the Kristin Collection at the local Coach store! Apparently, we don't get the leather crossbody bag here which is a bummer as that was the one I was keen on. In terms of colour, here are my thoughts:-
Turquoise – More blue and muted in real life. Looks better online. Potentially difficult colour to match.
Yellow – Lighter in real life. Cheery summery bright colour. My favourite!
Peach – Too red in real life. Overkill in a full peach bag. Ok in leather trim.
Taupe – Gorgeous unusual brown-grey. A good alternative to a classic brown bag.
The Satchel is adorable but looks much better carried in the hand or on the arm. Not on the shoulder. Its also a little small though its cute as a button! I think the larger satchel would be better for everyday.
The Hobo is a good choice. Not heavy and slouches well. The clutches were HUGE. I was expecting something small but these are oversized. The Exotic python was disappointing in real life.
Prices here range from RM1600 for canvas hobo to RM1950 for full leather satchel. The canvas crossbody bag is RM700 if I recall correctly.