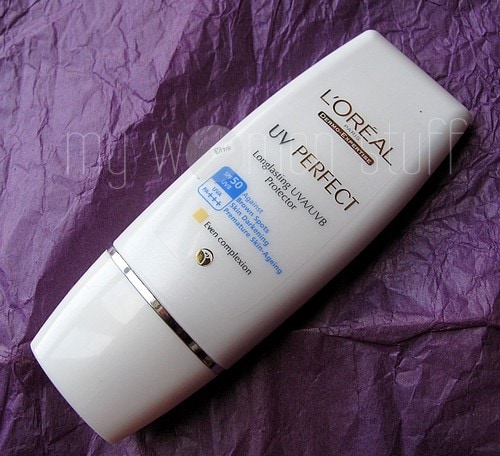 If you've been reading My Women Stuff from its early days, you'll remember my raves for the L'Oreal UV Perfect Fluid Protector sunscreen. It was the sunscreen of choice for me from waaay back – close to 5 years now! – because:-
It blocks UVA and UVB rays
Mexoryl XL works for me as a chemical blocker
It has high sun protection – SPF50 PA+++ and
It was super affordable since its easily available everywhere
My whole family (and a fair number of friends) used it too and it worked for us all. I've personally used up countless tubes of it. Although the transparent (white) formula made me oily I stuck to the anti-dullness (purple) formula which did not.
So, when L'oreal dropped off the UV Perfect Long Lasting Protector, I had a feeling of deja vu. What's different about it?
My answer : Nothing except the name – to me that is 🙂
Here's the new L'Oreal UV Perfect Long Lasting sunscreen set side by side with the UV Perfect Fluid Protector. Barring the name, everything else is identical.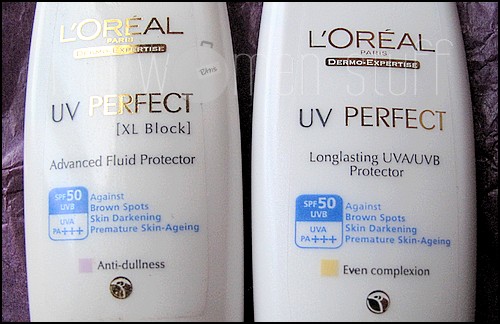 The new formulation (for that is what it is) claims to be longer lasting for up to 12 hours and contains an anti oxidant complex to protect skin cells against free radicals and to strengthen the skin against external aggressions. Otherwise, it still protects against UVA and UVB, and it still is affordable and it still has a sun protection factor of SPF50 PA+++
I experienced no trouble with this new formula. Similar to the old one, I had no breakouts, I did not get super oily and it keeps my skin burn free.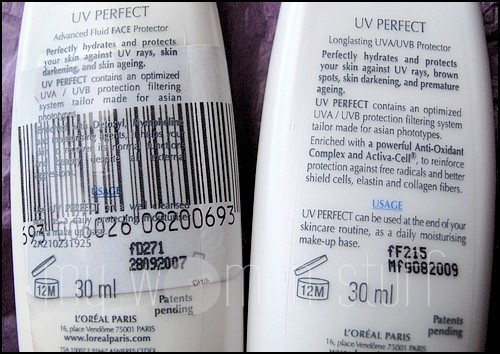 The wordings at the back too bear similar wordings. Must apologise for the unreadability of the old one but I couldn't remove that bar code thingy. I salvaged it just before I was going to bin it! LOL…
The new formula I have is slightly tinted – Even Complexion. I have a confession. I dislike tinted moisturizer and tinted sunscreen. I never feel like I've put enough on my skin as I'm worried it'd look too thick and cakey.
However, the texture of UV Perfect Even Complexion is light and it did not look cakey – sheers out to nothing really except a very very slight evening of skin tone. It makes a great makeup base for me and I sometimes just apply loose or pressed powder over it when I'm feeling a little lazy on weekends. Applied under powder foundation, it does help with coverage. On its own, unless you have very good skin, it does nothing for coverage.
You can get this in 3 shades – Transparent (white), Even Complexion (tinted) and Anti-Dullness (purple). Read my previous review on the UV Perfect anti-dullness formula. If everything's equal, it'll be the same 🙂
A 30ml tube retails for RM33.90 (used to be a bit cheaper) but wait for when they go on sale to snap it up. If you are in Bangkok, check out the prices there – its usually a little bit lower (from experience) 🙂
Pros: Affordable, Light formula, Good makeup base, High SPF, Protects against UV-A and UV-B rays

Cons: Some people have complained of breakouts and that it makes them oily, Even Complexion is very sheer and offers little to no coverage if you need it (but I prefer it that way)
I don't know if the new transparent formula makes me oily – the old one did which is why I went off it after a while. I'd not been using the UV Perfect sunscreen for a while but I've found that the L'Oreal patented Mexoryl chemical blocker works well for me.
I veered off to using Tinosorb S under Eucerin White Solution for a while, but I've come back to the Mexoryl fold in Vichy UV Activ sunscreen and La Roche Porsay Anthelios XL.
Like many things, its a matter of preference but it looks like I won't be straying anymore in the sunscreen department for a long long while 🙂 What's your story with L'Oreal UV Perfect? Its been around so long, I'm sure you've tried it at some point! 😀
Paris B