I'm a sucker for tv ads – for me, they are the best form of advertisements. I always fall for some new product or another! And the Olay Total Effects body wash is no different.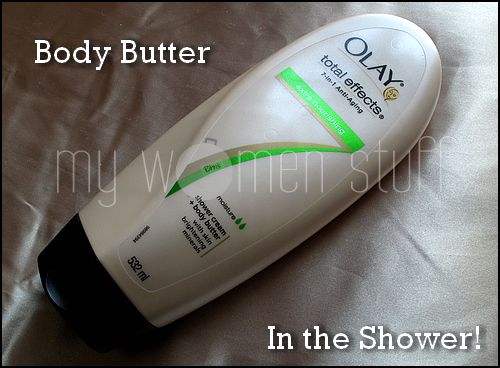 I'd used Olay Total Effects for my face but when they put the thought in my head about "anti-aging" for the body, it made me think of just how little care I take of the skin on my body. Well time to remedy that with a little trip to Guardian pharmacy! 😀 I picked up the Olay Total Effects body wash in Extra Moisturizing for roughly RM19.90 for 583ml. There are 3 versions – Moisturizing, Extra Nourishing and Ultra Nourishing. Mine is Extra Nourishing because I thought I needed it.
The body wash squeezes out like a mousse but when I spread it, it has a very smooth creamy feel. I don't use a bath lily or puff (I don't like it) so I just use my hands. For a body wash with body butter in it, I thought my skin might feel greasy after the shower or maybe be a little bit oily – body butter after all! But nope. It washes off clean as a whistle. My skin does not feel dry after that, but lets face it friends, it does not exactly feel super moisturized either. After about 2 weeks daily use, I find that my skin is a touch less scaly looking so I reckon it has helped but you still need to top up with body lotion to get really smooth skin.
The scent is like that of watermelon to me (not a smell I enjoy) but it lingers on the skin and fades down to a soft powdery scent that is rather comforting.
So, can a body wash help moisturize your skin? I'd stick my head out and say no. Just like facial cleansers, anything you wash off your skin can't help it very much. I like the fact it does not make my skin feel dry after my shower and that my skin does feel a little less dry, but if there's an Olay Total Effect body lotion in the offing, that might help better!
Everything said, I will repurchase. Surprised? Well, I like the smooth creamy feel on my skin and its pretty good value plus I like how my skin doesn't feel like a dried prune after my shower. Its nice for RM20 and it will last a while!
This product states that its made in the USA – personally I don't count that as a confidence boosting point because I think products made in this region are more suited to the weather and may not break down so quickly. But it it matters for you, this is a point to note.
Pros: Affordable, Not drying on the skin, Helps skin feel more moisturized after shower

Cons: Scent was not endearing to me
There was another set of Olay body washes with colourful ribbons swirled in them but I was not keen on them except for the blue one with the spa exfoliating ribbons – it had a sharp fresh smell like the sea which makes me miss going to the beach!
Have you tried this one? Like it? Hate it? Keen to try it? 🙂
Paris B