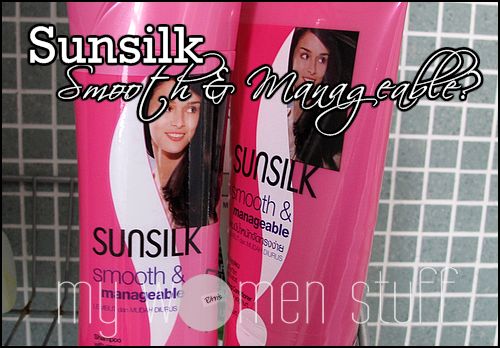 Sunsilk Smooth & Manageable shampoo and conditioner promises to tame unruly hair so you have hair that falls like strands of silk… if the ads are to be believed. From experience, nothing makes hair as smooth and manageable as rebonding but that also leaves me with limp hair which I detest.
So, I've been using the Sunsilk Smooth & Manageable for so long without reviewing it that my conditioner is finished. Sigh… Everytime I get round to reviewing a hair product, its finished :P See Dove conditioner – case in point!
Right off the bat, I'm going to say that this shampoo and conditioner did NOT make my hair any more smooth and manageable than it already is. I can run a wide toothed comb easily through my hair after washing and when I wake up which is normal by my standards.
However I did like the Smooth and Manageable Shampoo. It does not smell super fragranced like the leave in conditioner and you don't need much to lather up and get nice clean hair. It also softens my hair somewhat which feels nice.
The conditioner on the other hand, did not fall into my list of likes. I did not feel that it made my hair any smoother nor softer. If anything, my hair feels a little more coarse. Weird? Yes.

One more thing I noticed – I've been experiencing a lot of hair fall using this shampoo and conditioner which is quite worrying :P So, I'm going to switch to a different brand soon and see if it improves so I know if its me or the shampoo. Age is already a sore topic with me and I don't need to add premature hair loss to my concerns!
I cannot remember the prices of these but they are very affordable – under RM10 for the smaller sizes I'm sure and easily available everywhere.
Pros: Affordable, Not too strongly fragranced, Shampoo is nice

Cons: Conditioner did not make hair feel smooth and manageable
I'm always mixing my shampoos and conditioners to what feels nicest for my hair. I've also used expensive shampoos and conditioners previously but I'm now back to drugstore or pharmacy brands. I figure at the end of the day, if its fine for my hair, its also more economical for my wallet! :)
Stay beautiful,
Paris B