Rarely do I use a skincare product and immediately find myself transported into a wondrous world where I can't stop touching my face; reveling in the "toing toing" feel of smooth supple plump skin.
All this after just 1 application.
Magic I tell you. Pure Magic!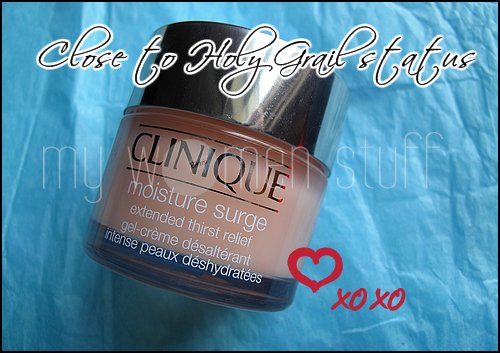 Light gel cream texture that is quickly absorbed with no sticky residue
This is precisely how I felt when I started using the Clinique Moisture Surge Extended Thirst Relief gel cream. It is labeled for all skin types and the light oil free texture does make it light enough. Yet for those with skin approaching the arrid air of the Sahara Desert, it works too!
This year alone, I've experienced 3 gel based moisturizers. Clinique's is the third. The first was H20+ Face Oasis – very good product. But took a while to dry and leaves a bit of sticky feel, and has a strong sharp scent.
Second on the list was Clarins Hydraquench Smoothing Gel. Very good too but not quite up to plumping up my dry cheeks and the scent too was a little strong.
Enter Clinique Moisture Surge – fragrance free and leaves my skin feeling and looking well moisturized. The light gel creme sinks right into my skin without any sticky feeling. My skin loves it – laps it all right up! Why did I suddenly feel like Goldilocks? 😀
Smooth moisturized skin makes a good makeup canvas
After just 1 week of day and night use, I'm just amazed that my skin looks and feels smooth and plump. It hasn't looked this way in a while – I'd been trying other creams that worked well for what they were targeted for but did not quite meet the moisture quota. The nice thing is that with smooth skin comes a smooth canvas for makeup which is looking better too. I've been using this for slightly over a month now and am still happy with it.
Anyway, long story short, I really like the Clinique Moisture Surge gel cream, and I'm going to keep this as a skincare staple.
Try it as an essence or mask!
I've used it as a mask also – just apply a thick layer and go to sleep. Wake up, and your skin is just amazingly soft and smooth. I'm going to take it with me on a plane journey soon. It's just what my skin will need to combat the dry cabin air.
Sometimes, I use this like an essence at night. I apply a light layer on the skin and then apply other creams on top of it. Works well too. Or maybe its working well with my Dior Capture XP Overnight Recovery Serum. Hmm…
… or over makeup… if you dare
Apparently you can use this OVER makeup too. I've never put it to the test since I haven't found an occasion to, but if you have, do share!
I love this but caused friends to breakout
However, the Clinique Moisture Surge may not be for everyone. I raved about this to a friend in Australia and she promptly scored herself a sample to try. A few days later, she told me of breakouts from using this moisturizer 🙁 Pity… but that's skincare for you!
A 50ml tub of baby pink goodness retails at RM160 – I will not quarrel with this for the world since it works a treat for my skin!
Pros: Absorbs quickly, Non oily, Fragrance Free, Leaves skin looking and feeling plump and moisturized immediately

Cons: May cause breakouts on some people
I don't believe in finding Holy Grail material – I'm too fickle. But if I had a Holy Grail category, this baby would be right up there holding the precious chalice… until it gets dethroned at some point maybe … 🙂
I'd always been wary of trying the Clinique Moisture Surge despite reading many good reviews on it, because I've broken out often from Clinique products – Total Turnaround is a total disaster on my skin. But I'm so glad I bit the bullet and tried this one.
Have you tried the Clinique Moisture Surge gel cream? Are you a fan? Did this break you out?
Stay beautiful,
Paris B