If you like lipbalm and prefer something organic and natural, you could do worse than Balm Balm lipbalm. I was offered a tub to try in rose geranium scent. If you're into organic or natural products then this might be an option for you.
I don't know if you know what rose geranium smells like, but I'd suggest you go to a counter with essential oils and take a big healthy whiff of it if you don't. It smells of roses and is a scent I find very soothing. Apparently, smelling it helps relieve menstrual pains so try that next time you have painful cramps.
However, in a lip balm, I find the scent a tad too strong. A touch of scent would have been nice but this is straight on rose geranium assault on your nose. Not even I can handle it. So, if you plan to try the Balm Balm lipbalm, I'd suggest you get it in the unfragranced version because the balm is good and not just for lipbalm!
Because I can't use it on my lips due to the scent, I'd been wondering what else I can do with it and recently I found that it was awesome on dry skin!

I've been having some dry skin on my fingers – I don't even know what's causing it this time since I'm using gloves to do my dishes. But dry skin it is and I was at my wits end as to how to moisturize it. So, one day at work, my eye fell on the Balm Balm lipbalm and I slathered some on the dry areas on my fingers – so as not to waste it.
It helps! Within minutes the hard skin softened and with regular use, the dry skin is going away. I keep it in my office for little uses like this. Its not very oily so it feels quite nice. Also, a little goes a long way so I'd imagine if you use it on lips, it would last a long while.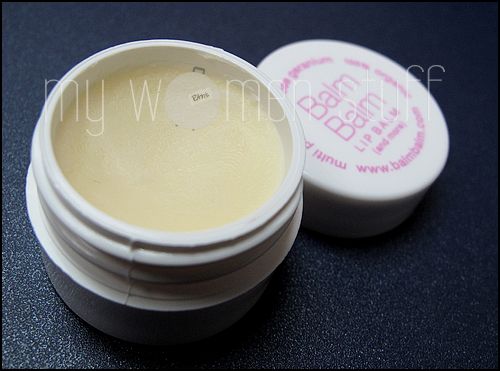 The balm feels hard to the touch but melts quite easily under the heat of your fingers. I always find myself picking up too much but since I'm using it on my hands, its alright. If you're using it on your lips, do be careful.
A 7ml pot of Balm Balm lip balm is available online at GBP2.99 or in Malaysia at natureinabox.com.my for RM24.
Pros: Emollient, Useful for things other than just lip balm
Cons: Rose Geranium scent is too strong (try the unfragranced version)


Ingredients: butyrospermum parkii (shea butter), helianthus annuus (sunflower oil), cera alba (beeswax), calendula officinalis (calendula oil), simmondsia chinensis (jojoba oil), pelargonum graveolens roseum (rose geranium oil) *citral, * geraniol, *citronello, *limonene, *linalool. *( items maked with * are naturally occurring components of rose geranium oil)
Some tips on what you can use rose geranium for
As rose geranium is used to balance the hormones (hence its usefulness when you have menstrual pains) you are not advised to use it while pregnant. Otherwise, if you aren't pregnant, try burning some of the pure rose geranium essential oil in some water. Its relaxing and helps lift the spirits and ease stress especially if you've had a bad day.
Or add a few drops of rose geranium in unscented oil and use it as a massage oil. Contact with the skin is more potent and helps you relax better.
Do you like the scent of rose geranium? Its one of my favourites… just not too near my nose 😉
Stay beautiful,
Paris B