With the injured toe taking over my life… and prohibiting me from wearing heels or covered shoes in general, I went and picked up a pair of pretty Ipanema sandals. No idea what they are called so if you know, do let me know.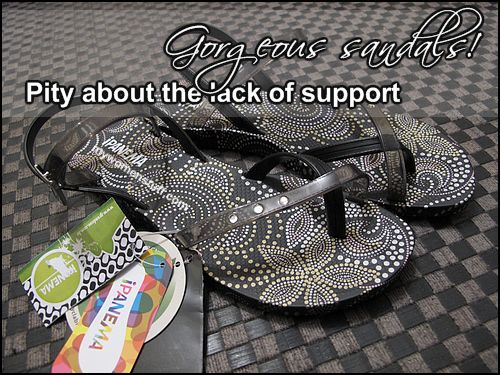 They are pretty – you gotta admit that. It goes well with my Red Hot Tamale nails and allows my feet freedom to move without hurting any toe. It also goes well with both skirts/dresses and pants and best of all, takes me to work without looking too frumpy. I was wearing my FitFlops all of last week and comfy as they were, it was looking just a tad frumpy and too casual. I tried the Electra (the one with the sequins) but sequins aren't my thing.
However, 1 week of pattering around in these flat sandals or flip flops has played havoc with my legs and back. If I walk too long in them, my legs hurt and then my back hurts.
Because its flat like a flip flop, there is no arch and heel support and thats bad for our archilles tendon. Being flat footed myself, this is a double whammy to my feet. By the end of the day, my back and calf muscles are a wreck. So its not just heels that kill your back, flats that have no support do it too!

So, when it comes to wearing flip flops, I'm going to stick to my FitFlops – they may cost me a bomb and do nothing for my tush, but they have been good for my legs and back as they offer some support. I've worn them for long distance walking and have suffered nothing more than tired feet as opposed to tired legs and an aching back.
That said, Ipanema sandals or Havaianas or pretty sandals or flip flops in general are very pretty on the feet. However, these Ipanema sandals or pretty flip flops in general will do for looking pretty on the feet and perhaps the beach but I'd keep them for when I won't be on my feet too much. I know that I certainly cannot walk down a shopping belt in any city in these. These old bones can't quite handle too much of this abuse anymore 😉
Tip when buying Ipanema sandals: Size up. Buy a size larger than your usual size or if you know your European size, match it to the Brazilian size for better fit.
Have you found flats or flip flops bad for your back too? Will you still wear pretty flip flops or flat even if your legs or back hurt?
Stay beautiful,
Paris B