Remember how I loved my Dragonfly Red in Maybelline Watershine lipstick? Well, it disappeared. Yep, nowhere to be found whether in my bag or lipstick box. But its Maybelline i.e. affordable so I got a replacement in the new Maybelline Watershine Pure lipstick in R22. No nice new name 🙁 So I'm going to call it Dragonfly Red – the Sequel 😀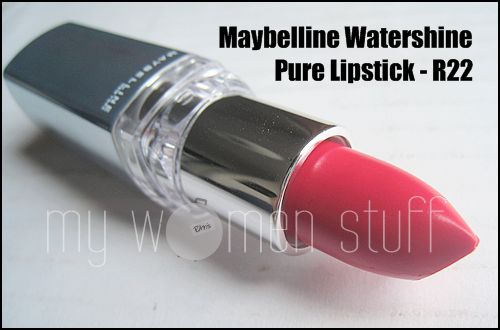 The color in the tube is a bright red. However, since this is a watershine texture, do not fret – swiped on the lips, its a sheer red that leaves lips looking plump and glossy. Did I mention I love how it looks?
The Maybelline Watershine Pure lipstick is the newest incarnation of the popular Watershine range. We've had Watershine with collagen and now Maybelline infuses their watershine range of lipsticks with pure water.

I like wearing the Maybelline Watershine Pure lipstick on its own. R22 brightens up my face yet does not make me look as vampy as other red lipsticks do. Very work friendly. My lips do not dry out and its just lovely! I do hope I don't lose this one!
The Maybelline Watershine Pure lipsticks come in 17 shades – I find the pinks and nudes go on lips like nothing so this would be a good time to experiment with darker or brighter colours. Its sheer enough so you don't have to worry if you aren't used to strong colours. The lipsticks retail for RM24.90 but you and I know it goes on sale often so keep an eye out then. 😉
Pros: Light texture, Glossy look, Does not dry out lips, Sheer colour, Inexpensive

Cons: None
You know I like rose and red shades of lipsticks – whats your favourite shade and have you tried the Maybelline Watershine Pure or any Watershine lipstick?
Stay beautiful,
Paris B