You might have noticed the new Dior Capture XP R60/80 Nuit products at the counters. Its hard to miss the luxurious looking navy blue Dior Capture XP Overnight Recovery Serum bottle paired with the Dior Capture XP Wrinkle Correction Night Cream.
Dior Capture XP R60/80 Overnight Recovery Serum – RM360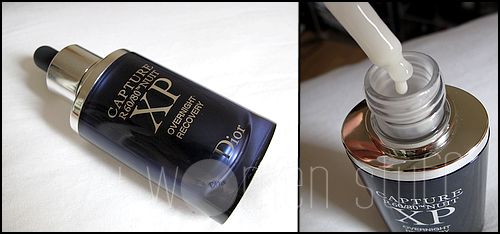 The Dior Overnight Recovery Serum is a thick white liquid dispensed via a pippette. I love all these geeky looking gadgets. Unlike the other anti-aging serums that have revolved around DNA lately, Dior instead harnesses the power of stem cells to renew skin, and this is done overnight when your body is at rest so cell regeneration is twice as intense.
The texture of the serum is thick but applies light on the skin. I like the serum. It makes my skin feel velvety soft after application and somehow makes it look a little bit better.
In the morning, I wake up to skin that I swear looks a little bit better. You are recommended to use this with the new Dior XP Wrinkle Correction Night Cream but I've used it with any number of other night creams and my skin still feels as good. Don't tell Dior I said that! 😉
The price is of course a little prohibitive at RM360/50ml, but then most serums are rather pricey anyway and you don't have to use much, just a few drops for your whole face and just only at night.
Pros: Nice texture, Makes my skin feel soft and looks better, Works with other creams from other ranges/brands

Cons: Expensive

Dior Capture XP R60/80 Wrinkle Correction Night Cream – RM345/50ml

The complementary night cream to the recovery serum is the Wrinkle Correction Night Cream. The cream comes suspended in a HUGE heavy oval shaped tub. Very luxurious when sat on your vanity but not very good for travel.
Texture wise, the cream is a little thick and tacky. A spatula is provided for hygiene reasons so you can scoop out the desired amount each time you use isntead of dipping your fingers in. Props for design!
The fragrance isn't as strong as I expected it to be. This is my first time using Dior skincare products and I know they tend to overdose on the fragrance. There is a scent but I don't find it unpleasant.
After much experimentation, I've discovered that a pea sized amount of moisturizer is about enough. This is about 1 spatula worth. I initially thought it was too little so I used more and that made my skin feel weird and filmy. So, I went back down to a pea sized amount and suddenly my skin started feeling much better.
When I first apply the night cream over the overnight recovery serum, my skin feels plump and soft. It absorbs very quickly and initially, I felt that it was insufficient for night. However, I've been using this cream for a month now and I think its actually a pretty good night cream. My skin feels a little smoother and firmer and there is a glow in the mornings after I wash my face. I must say that the results aren't instantaneous – I only really started noticing results after about 3 weeks so any transformation to the skin is very gradual.
However, I don't think its helping much to correct wrinkles too. Ok I don't have significant wrinkles but I do have some lines that could do with some correction and nope, no effect. So whilst this is a pretty good night cream, those looking for wrinkle correction may be disappointed.
Pros: No breakouts, No super strong fragrance, Skin feels nice after about 1 month's use

Cons: No visible wrinkle correction, Results take a while to show which can cause some people to be disheartened
So of the 2 new offerings from Dior in the Capture XP R60/80 line, I do like the Overnight Recovery Serum but I'd ask you to try the Wrinkle Correction Night Cream in person before getting it. Do note that the Dior Capture XPR60/80 line is targeted at those who are 35 upwards and those who want skincare with anti-aging properties. So, if you're younger or still have good skin, this may not be quite for you, but more for your Mum 🙂
Update on Franken-toe
After undergoing an X-ray at the hospital, I saw that the bones in my toe were fine. Straight as a nail in the x-ray but looks weird in real life. Maybe its always been that way 😛 Still, the doctor says it might be a hairline crack which will heal itself or a stretched ligament both of which will take up to a month to heal properly. Till then, I'll be in open toe flats or sandals or flip flops. That means my dressing will be toned down too. Sigh… I NEED my toes to heal quickly so I can wear shoes and walk for miles… 😛
Stay beautiful
Paris B