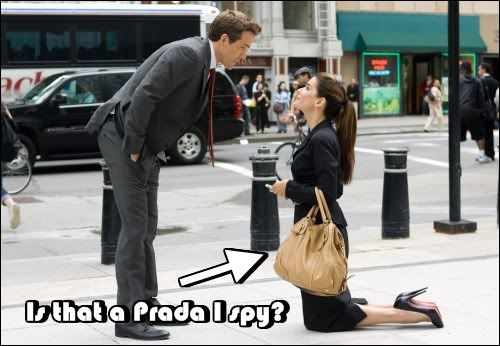 I won some tickets to watch the movie "The Proposal" during the week where I coincidentally met Beetrice! I swear we meet in the strangest of places hehe… We even ended up sitting in the same row – unplanned I can assure you!
Anyway, the movie was cute and Sandra Bullock is one of my favourite actresses. She's quirky and I like quirky. I thought she and Ryan Reynolds did not have much of on-screen chemistry but that's delving too deep into a light romantic comedy. Ryan Reynolds was too much of a pretty boy for me and I read he's going to play the Green Lantern in an upcoming movie. I can't quite seem him doing action but lets see eh?
What kept my attention riveted during the first half of the movie however, was the gorgeous bag Sandra Bullock was carrying in her evil editor in chief witch persona. A glimpse of the label told me it was a Prada but I could not be sure. The picture above makes me cringe though – think of those gorgeous Christian Louboutins being scuffed! *wince*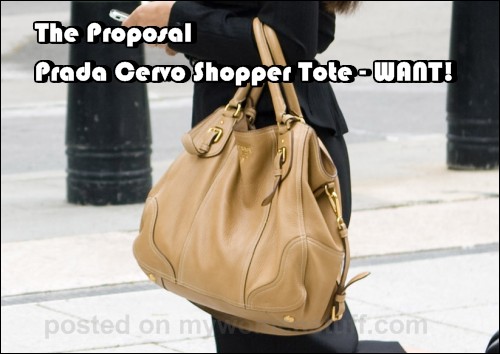 After some searching online, it turns out that it WAS a Prada. The Prada Cervo Antik Shopper Tote Style # B1191 to be precise and from 2008 which means its no longer available! Yes, I called our local Prada boutique to check and its gone. Oh well, it was probably too large for me anyway. 😛
The other bag of prominence featured in The Proposal was the Hermes Birkin in Orange. It was gorgeous but I know an Hermes Birkin is so way out of my league I'm not even going to try saving for it. The price will be like carrying a small car in the crook of my arm. Think about that!
Have you been taken in by bags or fashion in the movies? This is the first time that I have, I believe!
Memorable line from The Proposal movie – "Margaret will you marry me? Because I'd like to date you!" If someone ever asks me that, I'll be sure to let you know 😉
There's just one small snag – I'm not called Margaret 😛
Stay fashionable!
Paris B