At the last YSL sale I went to, I picked up the YSL Golden Gloss #4. It was impetuous but I'm happy with my purchase.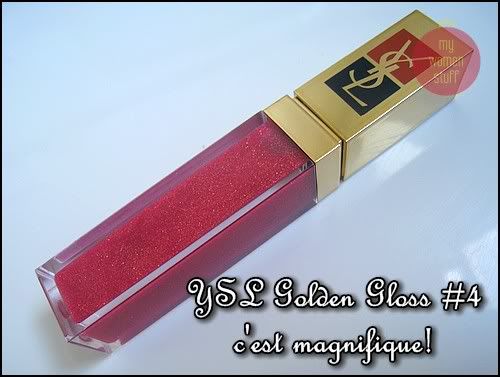 The gloss comes in a square tube – good to prevent it rolling around I guess. Its also quite a small tube in length compared to many other glosses. However, size does not matter, its how it performs … or have you heard that one already? 😛
I like that the applicator is a compact brush that does not splay. All hail brush gloss applicators! This is the reason I love the Guerlain Kiss Kiss glosses too. Brush applicators rock! Ahem…
It took me a while to choose the colour because I only wanted one so I ended up with #4 which is a cool toned rose red with lots of gold glitter. I say glitter because its coarser than shimmer but yet, it isn't chunky glitter so it wasn't too bad. I've got a swatch after the jump.
The nice thing about the YSL Golden Gloss for me, is that it is not sticky and did not dry out my lips. I hate it when glosses do that. They feel all nice and goopy but your lips turn into the Sahara under all that goop. Not the YSL Golden Gloss. The shine is good and so is the shimmer and pigmentation is second to none.
What stops me raving too much is the scent. Ah yes the inevitable signature scent in most French brands permeate this YSL gloss too. Its not horrid. But it is rather rosy and strong so be warned if you have a sensitive nose. I just hold my breath till it dissipates and I'll tell you that red lips on a blue face is not very complimentary LOL…
But seriously, strong scent or not, it does not really bug me that much because as I said, it dissipates.
The gloss is quite long lasting for a gloss. It doesn't disappear the minute you eat or drink but instead fades quite well. I find that the gold shimmers remain on your lips so if you like, you can actually apply a clear gloss or lip balm over your lips and still have a hint of shimmer.
A tube retails for RM79 at YSL counters but I got it for RM51. There's a sale going on at the YSL counter at Tangs Pavilion too so you could check it out this weekend! 🙂
Pros: Nice shimmer, Good pigment, Not sticky

Cons: Strong floral scent, Pricey normally
Have a safe Ramadhan!
The fasting month starts tomorrow 22 August 2009 here in Malaysia. While I don't observe this since I'm not Muslim, I'd like to wish all Muslim friends and readers a safe Ramadhan as I know some people may be traveling to their hometowns to be with their family for the first breaking of fast 🙂
To everyone else, I wish you a happy weekend! There are some deals going on this weekend which I'll update tomorrow 🙂
Stay beautiful,
Paris B