You know, there are times when I could just KICK myself. This is one of them.
I forgot to take a picture of my lashes before use. Sigh… So what I do have to show you is a picture of my lashes after about 1 month of using LashMantra.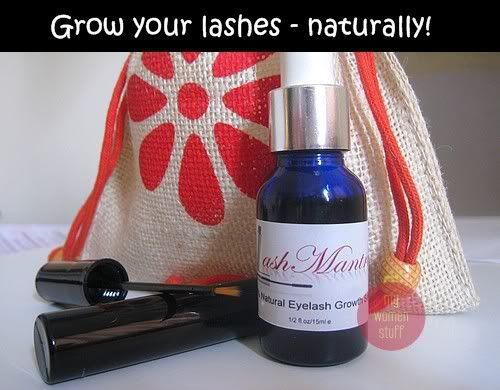 I've got the usual stick straight, short sparse lashes quite common among those of Chinese stock. Previously, I'd tried using the Mavala Double Lash serum which worked to lengthen and thicken my lashes somewhat, but when I stopped, they too stopped and went back to their puny skinny selves faster than you can say "Get on a diet!" I was disillusioned to say the least.
So when Leon of Lash Mantra offered to let me try her lash growth serum, I was a little sceptical. But try it I did, and yes, it works to lengthen and thicken my puny lashes, but not only that, the effect lasts even after I stop using it! This is the clincher for me!
According to the website, "LashMantra is a 100% Natural Eyelash Growth Serum which is made with Eighteen 100% Pure Cold Pressed Oils and Vitamin E Oil (Antioxidants and Natural Preservative). LashMantra is free from Artificial Fragrance, Artificial Colorant, Parabens, Synthetic Preservatives and Chemicals, just perfect for your delicate eyes."
What this translates to for us is that its a natural lash growth serum. It comes in a serviceable looking bottle with dropper, a wand-brush all in a jute drawstring bag.

There are 2 ways of using this:-
Apply LashMantra with your fingers – I drop 2 drops using the dropper into my left palm and lightly spread the serum between my index finger and thumb of my right hand and then apply on my eye lashes. You only need very little as its very liquid. If you're impatient you could get some of the oil into your eyes. It won't sting or burn but it will make your vision blurry which can be scary. Fortunately, its all natural oils and things were ok in a while.
Apply LashMantra with the wand-brush – A tube that looks like mascara is included but instead of a mascara wand, its a brush. Drop the serum into your palm then dip the brush into the serum and brush onto your lashes and the base. I tried this but prefer using my fingers because I get better control. Using the brush, I ended up with oily eyes most times.
Results are expected after 2-4 weeks use. I can report slightly longer thicker looking lashes after about 1 month. Its imperceptible but I am used to paying attention to my lashes as I use mascara most days of the week. And what happened is that my lashes seemed to need less mascara and look longer after just one coat. Also, some new baby lashes seem to be growing in the sparse bits especially on the lower lash line where I had pretty much no lashes before.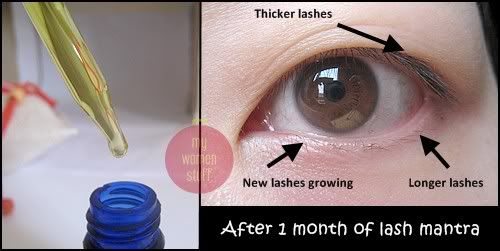 After about 1 month of use, I stopped using the LashMantra on purpose. I wanted to see what would happen to my lashes. Well, nothing happened. They stayed the same length and thickness and did not go all anorexic on me. Yay!
So now that I've gone past the 1 month use, I'm using LashMantra sparingly since I reckon I'm just maintaining lash length and volume and growth. Since I use a curler and mascara most days, I'm using this as a lash conditioner too. I saw that it can also be used for eyebrows so I might let my sister try it – She had the no-brow look before Givenchy even thought about it! 😛 I wonder if it works for those with hair problems… hmm… 😀
A 15ml bottle costs US$48 (inclusive of shipping) and Leon ships internationally. After 1 month, I've hardly seen any dip in the bottle so my guess is this serum can last you a long long time. LashMantra says it should last up to 6 months. I say with usage every other day, it can take you up to a year, no problems.
I reckon that US$48 is affordable if you are living in the USA or anywhere with a strong exchange rate to the USD. For us here in Malaysia, it can be considered a little pricey. However, when you consider that Mavala Double Lash costs about RM35 and the effects don't last if you stop using it, then LashMantra might just be more worth it in the long run. Lash Mantra is available at www.lashmantra.com (not affiliated. Please purchase at your own discretion)
Pros: Longer, Stronger thicker lashes with regular use, Lashes stay long and thick even after stopping, Natural oils do not irritate eyes

Cons: Pricey by Malaysian standards, Vision can get blurry if you get oils in eyes
What are your eyelash concerns?
Despite all my efforts to grow them, my lashes will be nothing but stick straight and point right down. No natural curl here hence the use of the trusty lash curler before mascara.The bonus is that now after Lash Mantra I have slightly thicker and longer looking lashes, so any curl is emphasized and they seem to hold mascara better.
What are your eye lash concerns if any?
Stay beautiful,
Paris B