We do not get La Roche Posay in Malaysia. Let me pause for a minute to wail "Why not?! Their sunscreen is turning into my HG sunscreen!" Now that I've gotten that out of my system, its back to business 🙂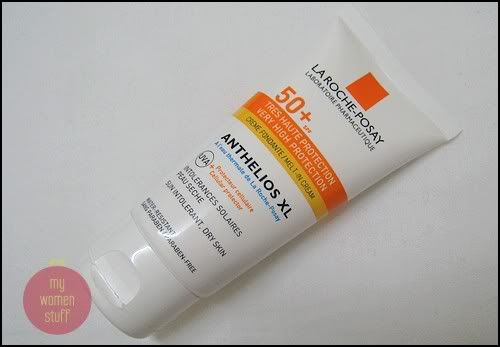 I got the La Roche Posay Anthelios XL sunscreen purchased for me from Singapore and ever since using it, I've pretty much tossed my previous Eucerin White Solution Treatment Fluid to one side. I mean, I love you Eucerin, but this one's SPF50+ and seems to work better for me… This… THIS is my sunscreen of the moment. I may have found a passable dupe locally but we'll come to that in time 😉
I got the Anthelios XL in the cream version. Its supposed to be more suitable for those with dry skin and I tend to agree. If you have normal or oily skin, go with the light version – you will find this one too heavy and oily. For me however, its perfect and it does melt right into my skin as it says on the tube.
The La Roche Posay Anthelios XL carries a SPF50 and has UVA and UVB protection. The active ingredients are Mexoryl (chemical UVA blocker) and Titanium Dioxide (physical UVB blocker). This makes this a combination chemical and physical sunscreen. The cream is thick, I will concede but it does melt right into my skin and I do not get oily at all during the day. I initially thought it might be the Vichy Pore Refine Essence that I use every day but when I did not use it, I too did not get oily. It might then be that my skin is drier than I'd expected but whatever it is, this sunscreen fits it to a T.
There is also no smell and no white cast. When I wear this and wander out in the sun, my skin does not burn and I do not turn red. I like that. I'm not into tanning and I'm so fair I'd burn easily. This sunscreen is also what I attribute to keeping my freckles/pigmentation at bay! They aren't becoming any worse. Or maybe its just that I use sunscreen all the time so I'm keeping the damage at bay.
It does say that it has a cellular protector and is water resistant and does not contain parabens so you can take it swimming or to the beach if you like.
Either way, I like this sunscreen and I was so close to purchasing a replacement just 3 weeks after starting on it so that tells you something! A 50ml tube retails at S$41 (RM98+) That's quite expensive for us, yes. But for me, absolutely worth it! I don't stint on my sunscreen 🙂
I've been wearing this everyday and so far, no breakouts and no reactions have appeared. It must be said that I've never experienced any breakouts with products containing Titanium Dioxide or Mexoryl which is why I liked the L'oreal UV Perfect sunscreen previously until I moved on.
Now for the dupe. A passable dupe I've been testing out is Vichy UV-Activ sunscreen available locally in Malaysia. Its not quite as thick as the La Roche Posay and also uses Mexoryl and Titanium Dioxide as its blockers. It too sinks into my skin and does not leave me oily but like La Roche Posay fluid cream, I may not recommend it for those with oily skins. I'll run a more comprehensive review on this one in a couple of weeks.
Pros: Not oily or sticky, High SPF and UVA protection

Cons: More suitable for dry skin, Unavailable in Malaysia, A little pricey for some
Freaky Friday!
How's Friday been treating you? I woke up with a heavy head and its turning into a headache so all I want to do is crawl into bed! 🙁 Unfortunately I'm having dinner with a friend who's celebrating a birthday tomorrow – I wonder if wine will make the headache go away? 😀 Now for the eternal question – where do I go for dinner? Japanese or French?!
Stay beautiful,
Paris B