I love it when 1 product works for more than 1 use. The new Diorskin Nude Natural Glow Fresh Powder Makeup loose powder is one such product.
What it is is a very light loose powder. What it can also function as is a loose powder foundation.The secret lies in the brush you use to apply this.
The Diorskin Nude loose powder is slightly pigmented so you must find a proper colour match. There is no translucent shade because I was told it can function as powder foundation also, as it is part of Dior's first mineral makeup line. What does this make you think of? Mineral foundation!
The application technique too is similar to that of mineral foundation. You tap a tiny bit of loose powder into the cap and swirl your brush in it, then dust over your face. For this purpose, Dior came up with a special flat top dense brush. Its very lovely being both dense yet soft on the skin.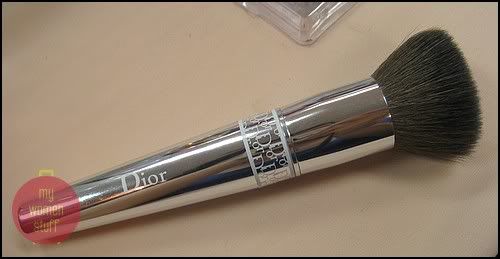 But both you and I know that we can just as easily use the Everyday Minerals Flat Top brush which works as beautifully at a fraction of the price! Shh… don't tell Dior I said that 😉 I would however love to have the Dior brush for my powder blush – my Anna Sui flat top (discontinued) is looking a bit worn 🙁
I do like this loose powder. Dior says that the loose powder contains active mineralized water and will not dry out your skin but will instead help give your skin a radiant fresh glow like that of nude skin. I don't know about the mineralized water and all that, but what I do know, is that its nice on the skin.
I dust it on as I do normal loose powder after liquid foundation. It helps it set my makeup and stays on the whole day. Throughout the day, my face feels smooth and dewy, and if you touch it, it feels light and powdery but does not look thick, fake and cakey. I don't know if that made any sense 😛 If I want a lighter look for the day, I use a fluffy powder brush to apply. If I'm doing makeup to look more polished and have more coverage, I use my flat top brush or kabuki brush which adds more coverage. I'll show you the difference when I wear it and when I don't below.

On weekends, I use this loose powder by itself if I'm going out. So, after my normal skincare, I dust on the Diorskin Nude loose powder using the flat top brush or kabuki brush. You only use very little to get a decent light coverage, pretty much like mineral makeup. If you want some serious coverage, try using a puff 😉 It evens out skin tone gently and makes you look like you are not wearing makeup… only a little better.
Let me show you an example of what I mean using a before and after picture.
The picture on the left shows me in my nude skin glory – only skincare and sunscreen. Scared you yet? 😛 You can see imperfections and ruddiness on the skin. In the picture on the right, I only used the Diorskin Nude loose powder brushed on with my flat top brush. Redness is significantly reduced and although imperfections are not 100% covered up, I have a no makeup "my skin but better" look.
Dior says this is their first foray into mineral makeup and it contains active mineralized water i.e. water with minerals in it and mineral pigments but yet they did not quite commit to it being mineral makeup if you look at the box and the paperwork included. Well I was not introduced to it as mineral makeup but as a "loose powder that can work as foundation" so I'm not quite fussed about terminology. If you are a mineral makeup purist you might not consider this line "mineral makeup" at all because the ingredient list (below) is not quite that of a typical mineral makeup product. So, I'd personally hesitate to call this new loose powder makeup "mineral makeup" but just something you can treat "like mineral makeup".
The coverage is sheer but I treat this more like a loose powder instead of a powder foundation so I'm not fussed.
All things said, its a fab little tub of powder that you may like if you like products that can multi-task. I take this in 010 – Ivory and it suits my skin tone fine. It contains SPF10 which in my view is way too low so don't skip your sunscreen!
A 50ml tub costs RM140 and can last you AGES because you only use very little. I cannot attest to any oil-control benefits except to say that I did not get oily during the day when wearing this and my skin only looked better and better. All I had was pretty much nice looking nude skin 🙂
Pros: Light fine texture, Feels light on the skin, Non drying, Can be used as loose powder or as powder foundation

Cons: Considered Pricey, You need a brush to apply this as no puff is included

Active Ingredients Titanium Dioxide 5.53%
Other Ingredients: Boron Nitride, Aqua, Methyl Methacrylate Crosspolymer, Dimethicone, Glycerin, Pentylene Glycol, Menthoxypropanediol, Sodium Chloride, Stearic Acid, Phenoxyethanol, Dimethicone/PEG-10/15 Cross polymer, Silica, Alumina, Parfum, MagnesiumAspartate, Zinc Gluconate, Copper Gluconate, Rhodochrosite Extract, Dipropylene Glycol, Sodium Metabisulfite, Sodium Citrate, Bytylphenyl Methylpropional, Tocopheryl Acetate, Tocopherol, Sericin, Hydrolyzed Linseed Extract, BHT, Sorbic Acid, Mica, CI 77492-CI 77499 Iron Oxides, CI 77163 Bismuth Oxychloride, CI77891 Titanium Dioxide, CI 77007 Ultramarines, CI77510 Ferric Ferrocyanide, CI73360 Red 30 Lake

Random picture from the weekend
Here's a picture of something quite unrelated for an … ahem… monkey friend… because I can 🙂
Isn't the baby monkey so cute?!
How was your weekend? Did you do anything interesting? I had quite a time at home filling up on all my hometown food – it was quite a foodie trip I made and I loved every minute of it. You?
Stay beautiful,
Paris B