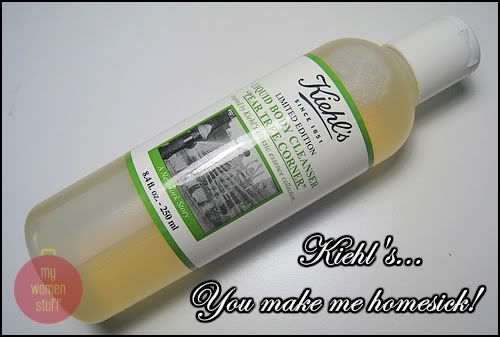 Kiehl's started out in 1851 and they never allow us to forget that – it forms a part of their name except most of us are lazy and just call them Kiehl's. They started at Pear Tree Corner in New York so when they wanted to commemorate this, they came up with a Pear Tree Corner Deluxe Set. I only have the shower gel which was a gift. I believe this may be an old collection.
Why do I feel homesick when I use this? Because it smells of pears! Its a lovely light scent and a lovely light texture on the skin. Cleans without drying and does not lather up too much. I don't know if its still available in the stores but I'd love to pick up the whole range – Pear scented lipbalm sounds divine 😛 Now onto my reason for homesickness and pear scents…
The reason for my homesickness is that I come from a little town in Malaysia where I used to indulge in a roadside drink known as "Pear Juice". I have no idea what it was made of but I was always told it was pears – it certainly smells like pears. I have not found this in the big city of Kuala Lumpur where I now live but whenever I smell the Pear Tree Corner shower gel, it makes me think of home and that ice cold pear juice drink of my youth!
I'm going home this weekend – I've been bathing in the Kiehl's Pear Tree Corner shower gel the whole week and this weekend I'm going to indulge in this pear juice drink of my childhood! 😀
Do you have a scent that reminds you of home? Do share! 😀
Stay beautiful,
Paris B