I recently had a fun outing with Connie at a paintball park. The lass managed to get herself through the whole day without getting a single bruise! I on the other hand, had a couple of trophies to show 🙂 It was fun anyway and I'm game for another session 😀
However, playing paintball meant I was out in the sun at one of the worst times of the day – around noon. I did slather on my sunblock (I specifically used sunblock with zinc oxide for this) but I did find my skin pigmentation getting a little darker a couple of days later. Distressing.
I was recently given some advise to help combat the pigmentation that flares up after a day in the sun; and I've tried it and found that it works. So, I'd like to share it 🙂
I was told that after a session in the sun, I should immediately or as soon as I can when I get back, apply a whitening / brightening serum and a cool mask on the face. This helps calm the skin down and prevents/stops the melanin from working overtime. I'm no dermatologist but I tried it and it worked for me.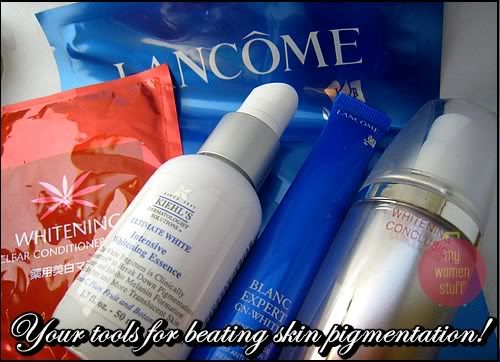 After another recent outing in the sun, I came home and used the Lancome Blanc Expert range more religiously:-
Lancome Blanc Expert Spot Eraser liberally all over my face
Lancome Blanc Expert Bio Cellulose mask over it for about 15-20 minutes
The next day I tried using another line I own by Kanebo Blanchir:-
I did find that the pigmentation did not flare up as badly or as quickly as previously. With regular use of a spot serum – I alternate between the Lancome Blanc Expert Spot Eraser, Kiehl's Ultimate White Whitening Serum and Kanebo Blanchir Whitening Conclusion – and using a soothing mask once a week, pigmentation was kept carefully under control and even seem to appear to be a little lighter. Yay! It is of course no substitute for using sunscreen and I'm always using the highest possible protection I can find everyday. I do fall off the bandwagon but I do find that regular use of a skin brightening product coupled with a soothing or whitening/brightening mask helps combat those pigmentation spots on your cheekbones 🙂
If you have a pigmentation problem like me (and fair skin tends to have this problem unfortunately) which causes your skin to look uneven in its colouring, you could give this method a shot. It works for me, and perhaps it might work for you too – besides its a perfect excuse for a weekly mini home facial 😉 Plus if you feel the need to even the look of your skin with makeup, I find using the Diorskin Nude Natural Glow loose powder helps 🙂
Do you have any tips to share on how to combat skin pigmentation? We could all learn from each other!
Stay beautiful,
Paris B