Hot on the heels of Lancome Genifique youth activating serum comes Biotherm's Skin Vivo range of reversive anti-aging skincare. I realised that its been a while since Biotherm came up with something new – their current product range has been around for a while.
Anyway onto Biotherm Skin Vivo – a new skincare range from Biotherm that promises to take 10 years off you. Woot! Make me young again! If it works, I shall bath in it! 😛 After all, my birthday's coming up and that means turning a whole year older…
The technology is rather similar to that of Lancome Genifique in my mind, both activating DNA so your skin looks and acts youthful. Being sibling companies I'm not quite surprised. The difference lies in the ingredients used and the fact that Lancome's is just a serum while Biotherm has incorporated their technology into a whole skincare range that includes a lotion (toner), cream, serum and eye cream.

The key ingredients in Biotherm Skin Vivo are Pure Thermal Plankton which has the ability to stimulate the MnSOD gene, an enzyme key to cell communication; and Reverserol SV extracted from the leaves of the candle bush plant. So working hand in hand, they repair damaged DNA and prevent further damage plus boost cellular activity. Wooh! Enough of the scientific speak! 🙂
The symbol of Skin Vivo is the egg symbolizing Rebirth and true to the theme, the products bear a light baby powder scent. Quite unusual in skincare products from my experience – usually skincare products tend towards the floral. The packaging of the products also takes its inspiration from the egg, bearing a circular shape. The Fundamental Cream in particular is super cute!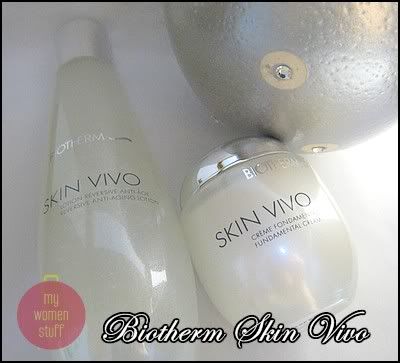 Anyway, I've been taking the Biotherm Skin Vivo Reversive Anti-Aging Lotion and Fundamental Cream for a spin and I'll report back properly in a couple of weeks. Preliminary reports indicate that they both feel very nice on my skin – making my skin feel soft, velvety and smooth but my skin likes one better than the other.
But will it take 10 years off? The jury's still out for now 🙂
The Biotherm Skin Vivo range consists of Anti-Age Reversive Lotion (RM140), Anti-Age Reversive Serum Tensor (RM270), Anti-Age Fundamental Day Cream (RM240 for soft gel or rich cream) and the Anti-Age Reversive Eye Area Gel (RM170). Available at Biotherm counters end August 2009.
UPDATE 3 Sept 2009: Review of the Skin Vivo Fundamental Cream and Reversive Lotion are up!
Stay beautiful,
Paris B