When I said I had 1 day in Singapore, I lied. I had only about 8 hours because I was popping in from some work related meeting in JB. Getting into Singapore from JB is an adventure in itself! I started my shopping journey on the shopping belt of Orchard Road in Singapore.
Getting off from Orchard MRT, I popped by Sephora at ION Orchard. I did not end up getting anything and crossed over to Tangs Plaza where I stopped off for some food at the food stalls in the basement and then browsed the household department. I had to tear myself away before I bought anything too bulky! 😛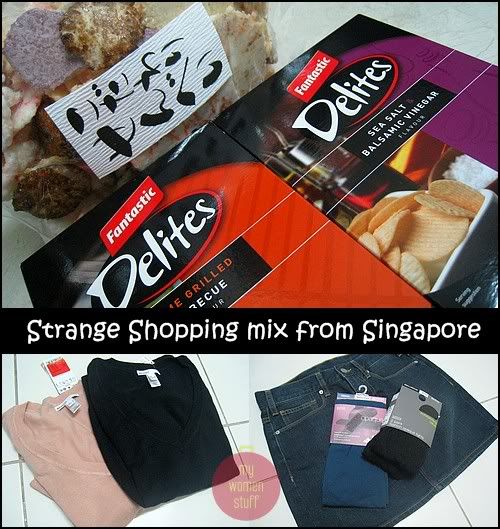 Finding nothing in Tangs (no major sales on) I trooped off to Paragon where I stopped by a couple of luxury stores (Gucci was on final reductions but the bags on sale were sorry, fugly 😛 ) and Metro was having 20% off storewide but nothing caught my eye.
So, I ended up in the basement where I had a cup of coffee, toast and eggs before popping into Guardian Pharmacy and Watsons. I wanted to check out Yes to Tomatoes range if it was available but the Yes to Carrots range in Watsons was so small and hidden! I couldn't remember where I was that had the large counter – can anyone help jog my memory?

I did contemplate picking up a replacement La Roche Posay Anthelios XL sunscreen (Guardian had a 1 day special of 20% off storewide with purchases over S$30) but stopped myself in time. I'd only just started using my current tube not long ago and I expect it to last at least 3 months so next time… I remembered some readers from Singapore asking where to get the Eucerin White Solution sunscreen I raved about, but I couldn't find it! What I did find was a Eucerin suncreen that we do not get in Malaysia. Decided I had enough sunscreens to last me a few months so back on the shelves it went.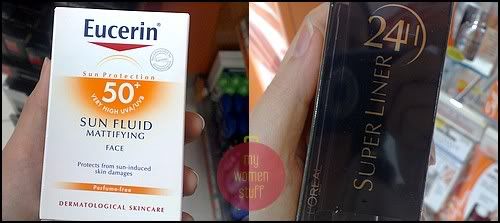 So onwards I trekked and stopped off at John Little where there's lots of cosmetics to be had including Milani. I also noted that L'Oreal Touche Magique concealer pen is readily available in Singapore! Why did L'Oreal Malaysia stop bringing this wonder pen in?! I hope someone from L'Oreal Malaysia is reading this 😛
I refused to get it though because it was S$21+ (RM50+ ) and I saw that L'Oreal had a Mineral Kohl liner and L'Oreal has a gel liner too! I wonder how it compares to the Maybelline gel liner?
Robinsons Centrepoint netted me nothing but I picked up a couple of knit tops from Mango at further reductions and a couple of pairs of opaque tights from Marks & Spenser for about RM24 a pair. I have this weird urge to wear tights with skirts – hopefully I can pull off some short skirts LOL… Stopping off at GAP, I picked up a denim skirt – so far nothing exciting yes? 😛
Popped by Cold Storage supermarket in the basement and picked up… groceries! Haha… I do shop for the strangest things don't I? But I always make it a point to go to supermarkets in foreign lands, I love checking out stuff I don't usually get here in Malaysia… and I indulged in some pork bacon sausages at the ready to eat deli … mmmm… 😛
At Takashimaya, Kate Spade and Salvatore Ferragamo was having a huge sale of up to 50% off. I picked up a Kate Spade green Mirra bow clutch which was going at S$234 or thereabouts. It was so pretty and fresh as I preened in the mirror but after doing a quick conversion, I choked a little and put it back. I might have gotten it for my upcoming birthday gift if I did not already have something else in mind 😉 Now, if I was spending SGD I'd have paid for it in a flash! 😛
Anyway, that was about all I did in Singapore as I had to rush to get myself on the train and bus back to JB before it got too late. If you have a few hours in Singapore and want to do some shopping, you could do worse than walk down Orchard Rd where you can pretty much find everything you want or need. Incidentally, I did the whole stretch in my FitFlops slippers – yes my legs were tired and ready to drop off by the time I got a chance to sit down, but surprisingly, the FitFlops held up and did not chaf between my toes! We have a winner, folks! 😀
How are you spending your Saturday? I'm attending Syen's wedding dinner tonight – what to wear… what to wear…
Have a great weekend!
Paris B