Not too long ago, I was introduced to the new Lancome Maquiliquide UV Infinite Liquid Foundation. At the time when I first tested it, I knew it was going to be a liquid foundation I'd come back to take a look at and I did.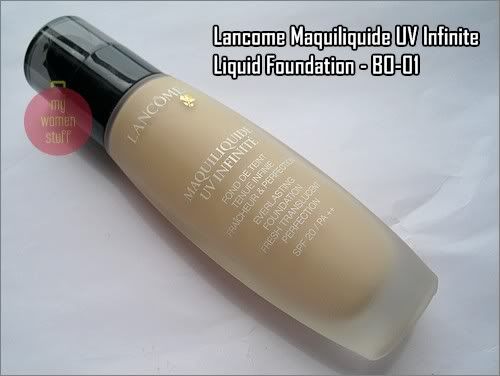 The new Lancome Maquiliquide UV Infinite Liquid Foundation is a liquid foundation I'm going to keep as a staple in my makeup lineup. As I said before, its a liquid foundation that's perfect if:-
a) You have oily-ish skin
b) You like light formula in liquid foundation
c) You don't mind sheer coverage
2 out of 3 ain't bad for me – I like light formulas and I like sheer coverage. Perfect!
Coming in a frosted glass bottle, the liquid foundation looks a little darker in the bottle than it really is. I was a little apprehensive when re-matched to BO-01. BO = beige ochre which has very slight yellow tones. There is a PO line (Pink Ochre with very slight pink tones) and a O line (Ochre tones). I was previously matched to O-02 but BO-01 is a much better fit for my skin. That said, BO-01 is really light so any yellow tones didn't show up too much.


The formula is slightly watery which befits the water based texture of this liquid foundation. Because its watery I find that I don't need very much. Do note that I like my coverage light so I do not apply much.
That said, although sheer, the Lancome Maquiliquide UV Infinite foundation does a good job of evening out my skin without making it look too obvious that I have foundation on, and I seem to have a glow when I use it. Weird because I've been battling blotchy skin lately. Weird but good 😛
It feels light on the skin – actually it feels like nothing on – and once I dust some loose powder over it, it stays on and on for me. It contains SPF20 PA+++ which is great but does not make much of a difference to me because I already use high SPF sunscreen everyday.
I had a bad day recently where the air conditioning in my office was out so I sat in a veritable sauna at work for hours, sweating away. My foundation did not budge much which surprised me. Happy surprised of course.
I use my fingers to apply and it applies quite easily without streaking. I pump one pump on the back of my hand and use my other hand to apply the foundation. One pump is good for my whole face so I don't use very much at all!
Retailing at RM130/30ml I'd say its pricey. However, because you don't use a lot, for me, its worth not having a masky or oily feel on your face throughout the day. As I had previously noted, this is an Asian formula targeted for Asian skins and Asian skintones (read: Oriental Asians) so color selection could be a little difficult if you have very tanned or dark skintones.
I'm really pleased to find 2 liquid foundations that suit my preferences for light sheer foundation now – the Lancome Maquiliquide UV Infinite and the I Nuovi Gelbase foundation. A girl cannot ask for more! 🙂
Pros: Light sheer coverage, Lasts through sweat and humidity, Contains SPF20

Cons: A little pricey, Sheer coverage may not be for everyone
High or Low end Liquid Foundation?
I don't know if its me but I seem to work better with higher end liquid foundation. For powder foundation I can swing either way but for liquid foundation my skin gets really fussy. I've been hearing some good things about Dior's liquid foundation too. Now the face is itching to try it eeps! 😛
How about you? Do you splurge or save on your liquid foundations? My answer unfortunately is splurge but hey, it lasts a while and gives me a great base canvas to work on so its not all that bad 🙂
Stay beautiful,
Paris B