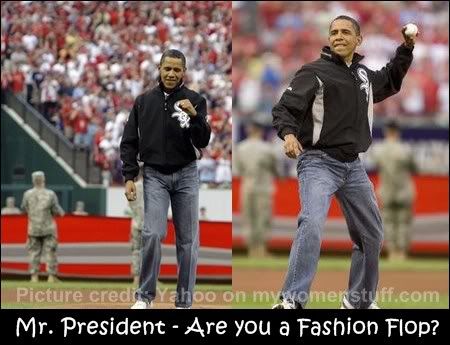 I was pondering on this when the fashion world and the world in general pushed the relatively unfashionable Barack Obama to the forefront of fashion by commenting on his jeans.
All the President of the USA did was to walk out to throw the ceremonial first pitch for the 2009 All-Star Baseball game and he was lambasted for his choice of leg-wear – his jeans to be exact.
They were labelled "Dad Jeans" and "Mom Jeans" which isn't quite flattering to Mom and Dad 😛 I think the complaint was that he was wearing baggy-ish jeans. I did not think they were all that baggy, but even if they were, what's wrong with that?
President Obama said in a later interview that he was "frumpy" and that the jeans were "comfortable" and whilst I cannot vouch for the former since I don't follow his fashion profile (he's vastly ecliped by his wife Michelle Obama anyway!) I can vouch for wearing comfortable jeans! I love broken in jeans because they are so comfortable even if they may not be the tight, low-waisted or skinny jeans favoured by the current fashion trend. (I don't think I can squeeze my legs or behind into skinny jeans! 😛 )

Similarly, I don't keep up with the present fashion trends for most things, prefering to dress for comfort and to my body type rather than dressing for fashion. I might even say I have a pretty boring dress sense since I don't follow trends nor keep up with them LOL… I try to go for classic pieces where possible.
So, I can emphatize with the President of the USA. Mr. President, I say wear your baggy jeans all you want – at least they aren't falling off your behind like the fans of hip-hop style dressing, nor are they so tight that your voice is liable to squeak! 😛
What's your take? Was the President of the USA a fashion flop? Do you dress for fashion or for comfort?
Stay beautiful,
Paris B