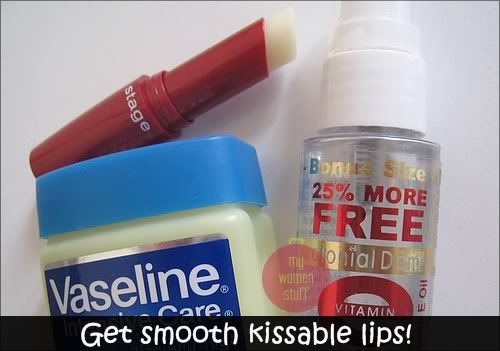 I love lipsticks but because I wear lipsticks, my lips are less forgiving if I get lazy and don't exfoliate them or get them nice and smooth before applying lip colour. Lip gloss is more forgiving in general.
What I've also learnt from trial and error is that most lipsticks, even the most drying and matte, can look good on you PROVIDED you prepare your lips properly before applying said lipstick. Whether you like the feel of lipstick of course is a different matter 🙂
Here are some tips I have. Please feel free to add more!
1. Drink lots of water
Drink the requisite 8 glasses of plain water a day. The skin on our lips is very thin and when you are dehydrated, its one of the first places it shows up. Think dry puckered lips – not very pretty is it?
2. Do not bite or lick your lips
So you think biting or licking your lips is cute around boys? Well, your lips don't think so! Biting injures the delicate skin on your lips and licking only serves to dry them out further. If your lips are feeling dry, use a lipbalm – saliva is not a substitute. If your lips are peeling or chapped, exfoliate them gently to remove the dead skin then apply lipbalm.
3. Use lip balm to stave off dry lips
If you have dry lips or lips prone to chapping, carry a lipbalm around with you. I'm not one for lipbalm though I know many girls are. I used to use Chapstick because there was no flavour. The latest I'm using is Stage WonderBalm (RM40). Its smooth and emollient and has a very very light citrus scent I don't mind but otherwise there's no taste. If you dislike flavoured lipbalm you might like this one.
Continue Reading