Yesterday, when I Tweeted that I'd picked up Porcelain Pink – a MAC Mineralize Skin Finish powder, I received a slew of Twitter replies ranging from the incredulous to surprise. Yes, my reputation for disliking MAC must be THAT obvious eh? 😉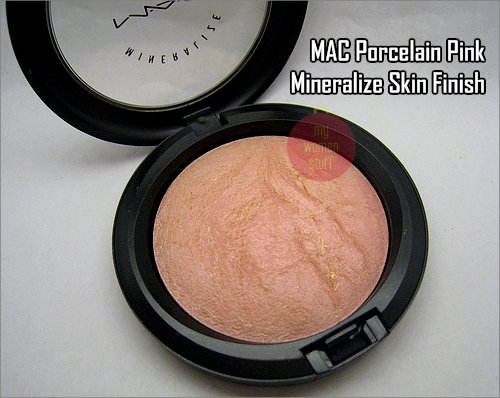 I like to give brands a fair chance because there are always hits and misses. So yesterday, I walked into the MAC store at Pavilion Kuala Lumpur where I received some pretty good service by my standards.
There were a couple of girls chatting away and ignoring my presence but a friendly male sales assistant came up to offer his help without being intrusive. He let me play with everything at the counters, wander all over the store and only when I asked for his help did he come on over to assist. Personally I like that because I can usually tell whether I want something off the bat without someone hanging onto my coat-tails. But that's me and perhaps others might not like that. All in all, I've had 2 good experiences with MAC at Pavilion Kuala Lumpur now (both with male SAs) and if I go back to MAC, it will probably be there.
So onto Porcelain Pink! The Mineralize Skin Finish I'd been eyeing since its debut in 2004. Don't ask me why I did not get it then – its one of those things. So after a couple of re-releases and now re-released again with Color Craft, I strolled off to eye it and possibly buy it.
Porcelain Pink is a very light pink with gold veining which imparts a light shimmer. Nothing chunky nothing highly shimmery like the rest in the Color Craft collection.
Swiped on my hand you see nothing. Which is why you won't see any swatches here. I used it today as a blush to try it out. Its actually a tad too light to be used as a blush unless you are very very fair skinned. I used my Anna Sui Flat Top brush which is pretty dense to apply this on and I get a very slight pink on my cheeks with shimmer. Fortunately, shimmer isn't super heavy so I'm not looking like a disco ball. It actually makes my skin look quite nice and poreless 😛
Tine asked if Porcelain Pink was anything like Benefit Dandelion. Off hand I'd say Dandelion is cooler pink while Porcelain Pink is warmer with golden shimmer. Dandelion also seems to show up better on me as a blush while Porcelain Pink is sheerer but will look really pretty as a highlight or over pink blush to accent.
I'll experiment in the next few days and do some comparisons and we'll see how it goes from there. MAC Mineralize Skin Finishes retail for RM115.
So there you have it, my first MAC purchase in a million years. I rather like it for now, and no the sky isn't falling down on our heads and I'm not left wanting more MAC. I'd say its all in all a pretty good thing! 🙂
Do you own Porcelain Pink and if you do, what do you think of it? Any tips on how I might use it? 🙂
Stay beautiful,
Paris B