Allons enfants de la Patrie,
Le jour de gloire est arrivé !
Contre nous de la tyrannie,
L'étendard sanglant est levé !
L'étendard sanglant est levé !
~ La Marseillaise – French Anthem
Bastille Day is celebrated in France on 14 July every year. This year, what with being known as "Paris" and all… I found myself having wine and cheese and admiring the new Lancome Declaring Indigo collection (again!) at their press launch. 😀 How fitting!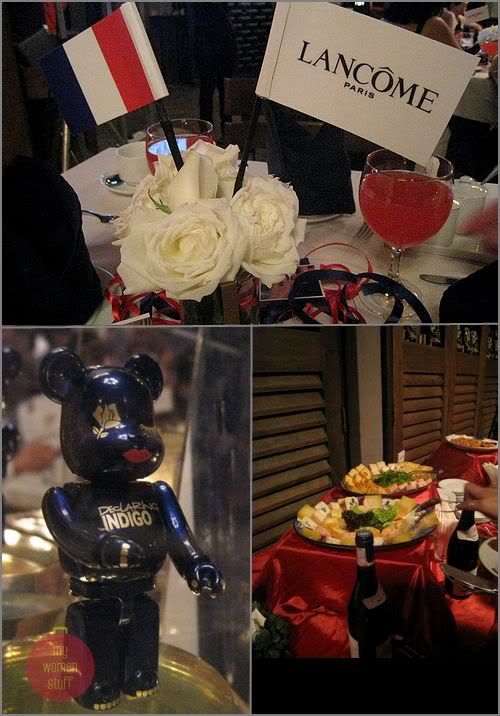 Fittingly held in Le Bouchon, a French restaurant in KL, the Declaring Indigo collection was launched with quite a bit of fanfare, with each of the Lancome makeup artists showing their interpretation of the looks created by Aaron de Mey.
Here were the looks produced by the Lancome Color Design team of makeup artists using products from the Fall 2009 Declaring Indigo collection:-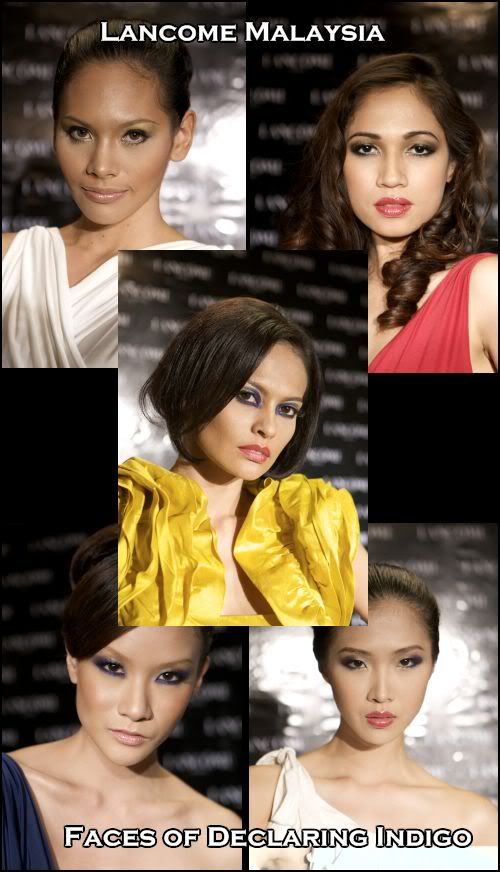 Although the colours in the Declaring Indigo collection are quite low-key, they can be used 4 ways :-
Low Contrast Low Saturation – gentle use of colours, keeping everything light
Low Contrast High Saturation – Dramatic on eyes and lips, soft on the face
High Contrast Low Saturation – Sculpted look with light colour
High Contrast High Saturation – Strong full effect makeup, enhancing facial structure, eyes and ips.
I had my makeup touched up by the resident makeup artist and told him to go nuts! He didn't quite though its much more dramatic in person. I went for a haircut after this and my hairdresser said "Ooh! You have makeup on! Going somewhere?" 😛 I can't quite figure out which of the 4 looks he gave me though, can you?
I was also taken in by the special limited edition collectible Bearbrick made for Lancome (only 16 in Malaysia!) – Its so cute I wanted to swipe it 😛 But of course I kept my itchy hands to myself. Apparently, the limited edition Bearbrick is going to be available as a purchase-with-purchase at Isetan KLCC in September on a first come first served basis. Hmm…
Declaring Indigo launches at all Lancome counters in August 2009 and you can ask the resident makeup artists to teach you the 4 styles of makeup highlighted in this collection. You can see the closeups of the products and swatches for Declaring Indigo in my previous post. The Indigo Gel Artliner and the Indigo Nail polish are tugging at my heartstrings 😛
I know some readers had volunteered as Lancome face models to try out the Declaring Indigo colors the day before – were you one of them and did you enjoy the experience? 🙂
Stay beautiful,
Paris B