10 years of research and 7 patents later bring us Lancome Génifique Youth Activating Concentrate – a serum that claims to unlock the gene profile that controls aging so skin looks younger from a genetic level. Really fascinating stuff, I do not deny.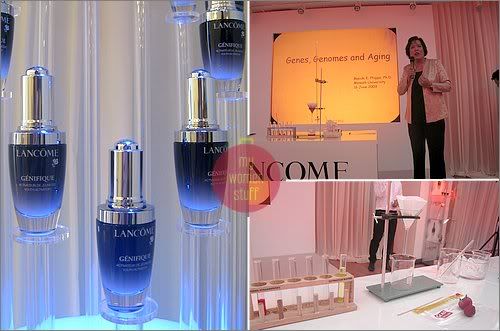 During the recent launch of Génefique Youth Activating Concentrate here in Malaysia, Lancome had a little talk on genes and aging by Ass. Prof Dr. Maude Phipps of Monash University Department of Human Genetics and Molecular Medicine. She did a good job giving us a brief overview of the human genome and how genes affect and control every fibre of our being including aging. If I was just a little more inclined towards science and math, I would have signed up for genetic research a long while back. Still, I enjoyed her talk tremendously being the closet geek… and this time there are no exams 🙂
And I enjoyed extracting the DNA from a strawberry too! Donning white lab coats and sitting before science lab instruments I last saw while at school, I felt the perfect mad scientist 😀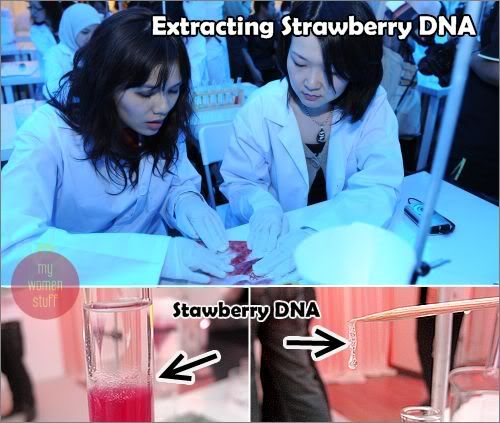 Unlike my experiments at school, this experiment was a huge success! But back to the Génifique Youth Activating Concentrate.

What the Lancome Génifique Youth Activating Concentrate is supposed to do is boost the activity of our genes so skin looks and feels younger. The 2 biotech active ingredients are Bio-Lysat – stimulates gene's expression of the identified youth protein; and Phytosphingosine – re-establishes protein synthesis and promotes the development of higher quality, more beautiful skin.
The serum comes in a heavy smoked black glass bottle that reminds me of rare and wonderful potions that we see in the movies. You know when the scientist has an Eureka! moment and draws a little vial of potion from a vat of dry ice… this is how it looks.
All you need is 2 drops day and night and the opaque serum is dispensed via a dropper in the cap so its quite easy to control. You use it right after cleansing and toning and before all other serums or moisturizers.
I'd been using it for a while and I must say that the initial results were pretty impressive. I swear my skin looked better after only after a few days.
However, I also noticed some breakouts happening around my chin and cheek area. A Youth Activator should not be activating my teenage acne genes too right?! 😛 I was not sure at first so I stopped it and let everything clear up. Then, I tried again and 2 days later, I got some spots. It was saddening.
I did try using it only once a day and it works fine for me then. So, I'm keeping to just once a day usage or once every alternate day. On the one hand it seems to be doing its job despite the not so regular use, and on the other hand, its helping one 30ml bottle last a whole lot longer! 🙂
A 30ml bottle of Genifique Youth Activating Concentrate will retail for RM350 at all Lancome counters from August 2009. Watch out for it then.
Stay beautiful,
Paris B