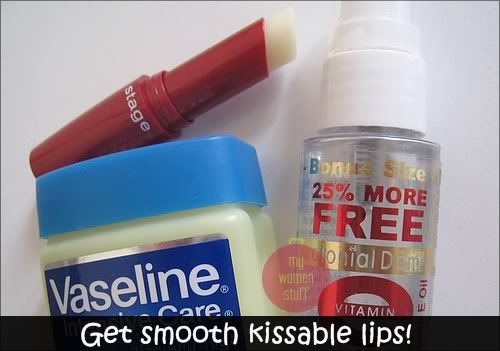 I love lipsticks but because I wear lipsticks, my lips are less forgiving if I get lazy and don't exfoliate them or get them nice and smooth before applying lip colour. Lip gloss is more forgiving in general.
What I've also learnt from trial and error is that most lipsticks, even the most drying and matte, can look good on you PROVIDED you prepare your lips properly before applying said lipstick. Whether you like the feel of lipstick of course is a different matter 🙂
Here are some tips I have. Please feel free to add more!
1. Drink lots of water
Drink the requisite 8 glasses of plain water a day. The skin on our lips is very thin and when you are dehydrated, its one of the first places it shows up. Think dry puckered lips – not very pretty is it?
2. Do not bite or lick your lips
So you think biting or licking your lips is cute around boys? Well, your lips don't think so! Biting injures the delicate skin on your lips and licking only serves to dry them out further. If your lips are feeling dry, use a lipbalm – saliva is not a substitute. If your lips are peeling or chapped, exfoliate them gently to remove the dead skin then apply lipbalm.
3. Use lip balm to stave off dry lips
If you have dry lips or lips prone to chapping, carry a lipbalm around with you. I'm not one for lipbalm though I know many girls are. I used to use Chapstick because there was no flavour. The latest I'm using is Stage WonderBalm (RM40). Its smooth and emollient and has a very very light citrus scent I don't mind but otherwise there's no taste. If you dislike flavoured lipbalm you might like this one.


What I also liked about the Stage Wonderbalm was that with overnight use, I wake up with soft smooth lips. Lovely! Which brings me to my next tip…
4. Use an overnight lip treatment
Despite the lofty sounding name, this isn't something expensive but something you can easily do at home relatively inexpensively. I just use the Stage Wonderbalm or Vaseline or my old standby Pure Vitamin E oil on lips.
Slather on a thick layer on your lips and go to bed. Wake up in the morning to soft smooth lips, just waiting for lipstick to glide on. I swear it works a treat!
5. Exfoliate your lips occasionally
Keep an old soft toothbrush in your bathroom and run it lightly across your lips once in a while. It will remove the flakies and stimulate the skin. In the alternative, make a honey and sugar paste and "scrub" it over your lips then rinse. Soft kissable lips!
6. Use a lip remover to remove your lipstick at the end of the day
You are supposed to use a lip remover to remove old lipstick before putting on new lipstick but how many of us have the luxury at work? So at the end of the day, when I take off my makeup, I use a lip makeup remover. I'm using the L'oreal Eye and Lip makeup remover. Do not tug your lips. Just wet the cotton pad and swipe over your lips gently. You'd be surprised at how much lipstick is left on your lips even though it looks like there's nothing on.
I was told once that using a proper lipstick remover to remove lipstick is better for your lips and can reduce the incidence of the darkening of the edges of your lips you sometimes see on some women. I'm not sure of the truth of that but what I can say is that I've used lipstick all my life till now and my lips look fine! 🙂
So these are my tips for preparing your lips before applying lipstick. Just like our faces, lips take some looking after too to ensure a smooth canvas for the colour. It will make any lipstick glide on and looks better too. Whether its kissable is another matter right? 😉
So share your tips for smooth kissable lips? 😀
Stay beautiful,
Paris B