I'm seeing a lot of strong looks this Fall/Winter of 2009, first with Lancome Declaring Indigo and then with YSL Cosmetics. Guerlain too seems to have taken the same road as has Dior I read. Guerlain's theme is Beauté Slave or Slavic Beauty – beauty inspired by the Russians… not by slaves ok? 😛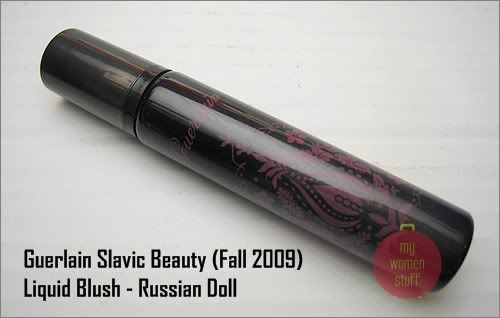 A new item in this collection is a liquid blush named aptly, Russian Doll. Russian Doll comes in a slim cylinder with a pump. The cylinder has these beautiful filigree artwork on it that's really pretty.
The colour is a bright rose red when pumped out. This is where I have a little grouse. The pump is really hard to control so I always end up pumping out too much. You only really need very very little for this color to show up, especially if you are fair.

However, what you tend to get every single time is a dollop as what you see in the picture above. Quite a bit of wastage there since I use so little.
The colour looks scary pink but if you use very little of it and blend it into your skin properly, it gives a most gorgeous just in from the cold flush. I squirt it on the back of my hand and use the Lumiere Skunk brush to apply.
In terms of staying power, I find that it stays on my not very oily skin, but it does fade a little by the end of the day, unlike Benetint that stays on and on. If you like, layer a pink powder blush over Russian Doll and it'll look really pretty.

There is a signature Guerlain fragrance added and I believe this might be limited edition. Here's an approximation of how it'll look when applied on the cheeks:-
I stipple it on with a skunk brush and then swirl to blend. It does not set as quickly as Benetint and thus is easier to work with for me. I keep it light so all you really see is a slight pink flush which is how blushing should be eh? 🙂 (I hope it shows on your monitor. If it doesn't sorry!)
Available at Guerlain counters in August 2009 and will retail for RM130.
Do you have tips to work liquid blush?
I don't know. Liquid blushes really fly under my radar despite all my love for blush. I am always so afraid of making mistakes and ending up looking like Mr. Bozo the clown. Its a phobia I should surmount I think.
I've been experimenting with I Nuovi cream/liquid blush and Benefit Benetint and so far, its been quite a positive experience. Russian Doll is my 3rd liquid blush. I like the barely there blushing from within look it gives but I'm still quite ambivalent about whether I'd keep liquid blushes as a staple in my lineup.
How are you for liquid blushes? What's your fave?
Stay beautiful,
Paris B