Guerlain joins the ranks of the European beauty houses in showcasing a strong look for Fall 2009. Seriously, I'm really loving the Fall collections this year from most of the fashion houses. Maybe because I'm into strong looks too 🙂
Guerlain's Fall look is inspired by the lovely Salvic ladies with limited edition palettes and lipsticks in the new collection.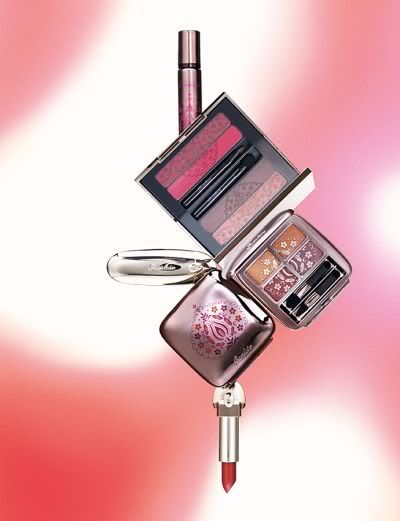 The limited edition star product is the Volga Princess palette (RM252) – an eye and lip palette in lovely packaging. The other eyeshadow palette is Tsarina (RM186) which looks gorgeous and has the signature filigree sprayed on the surface. I love how it looks but I'll have to check how it applies. I remember Midnight Butterfly last year that looked pretty but swatched so sheer I was disappointed.
The other limited edition signature item from the Beaute Slave collection is the Russian Doll radiant liquid blush (RM130). You can read my review and swatch on this one 🙂
2 new Rouge G de Guerlain lipsticks (RM158) in Graziella and Giovanna complete the limited edition collection. I'm still thinking of trying the Rouge G lipsticks – perhaps for my birthday … 😉
There are a couple more items but lets leave budget constraints aside – which item calls out to you? 😀
Some other new items join the Guerlain stable this Fall. Among them is the Brun Mordore eyeshadow palette (RM186) which I reviewed earlier. This is permanent.
The retractable eye pencils (RM88) in Gold, Silver and Bohemian (black) are limited edition as is the le 2 de Guerlain mascara (RM126) in Nuit 2 Boheme.
Guerlain will also release a new sheer lipstick called KissKiss Baby (RM98) which is known as a Nourishing Lipbalm and contain SPF 10. The collection is called Delicate Nudes which seem to imply that they are very sheer. Available in 6 colours. Hmm… I like KissKiss lipsticks because they are pigmented yet light on the lips. I don't know how I'd feel about RM98 lipbalm 😛 We'll have to see when it comes out.
The Guerlain Slavic Beauty collection for Fall 2009 should be available at Guerlain counters from August 2009.
So which item would you get if money was no object? I'm quite fascinated by the colours in the Volga Princess eye and lip palette. You? 🙂
Stay beautiful
Paris B