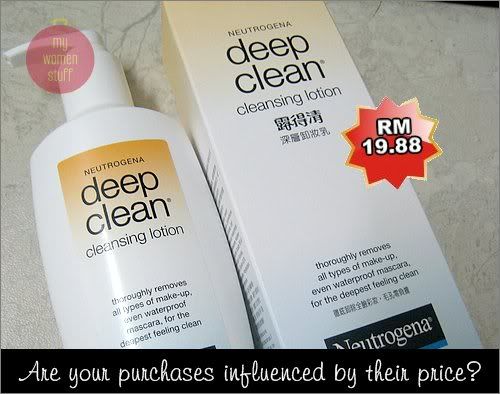 During the weekend, I popped into a Guardian pharmacy and popped out clutching a Neutrogena Deep Cleansing lotion makeup remover that comes well recommended by Kahani.
Part of the reason lay in the fact I'd been wanting to try it ever since reading the raves all over but the other part lay in the fact that the price of a 200ml bottle was marked down to RM19.88.
Considering it usually retails for RM22.90 or thereabouts, it wasn't a hefty saving. Yet, it seemed to tell me "Hey! I'm a great deal you'd miss out on if you don't pick me up right NOW!"
I didn't quite "need" it, but it was a good price to try it at – all RM3 saving of it.
It made me wonder just how much my purchases were influenced by their prices or by whether they are on sale or on discount.

For luxury goods, a small percentage of discount may translate into huge savings in terms of dollars so in those situations I find it easier to be swayed by a discount or sale. On the other hand, if its a drugstore/pharmacy item I'm less likely to be swayed by a sale or discount unless I'm running out of an item and wouldn't mind restocking at a lower price. Or in the case of the Neutrogena, because I'd like to try something and get the thrill of not having to pay "full price" 😉 Fortunately, makeup remover is always something I can use and will finish up so its not like its a waste.. or that impulsive a buy.
Incidentally the 2 month long Malaysia Megasale Carnival has started in Malaysia and the Great Singapore Sale has been going on for a while now in Singapore.
I haven't been checking out the sales to my consternation. Have you? And Have your recent purchases been influenced by the sales or discounts you're getting?
Stay beautiful
Paris B