When I saw some pictures of the upcoming YSL Cosmetics Fall/Winter 2009 collection I was quite smitten. I don't know what it is with me and European brands lately, but they've been getting more love from me as compared to Asian brands. Perhaps I'm growing up?! :O
All pictures you see here are courtesy of YSL Cosmetics and are hot off the press! :D
I love the eye look on the model. YSL terms the Autumn/Winter 2009/2010 look the Laws of Attraction – A diaphanous complexion, graphic eyes and femme fatale lips – an icon of feminity. I love the eyes! The lips are a little too dark for me though – maybe good for winter.
The star product for YSL fall/winter 2009/2010 is the Palette Y.
Palette Y is the Limited Edition Collector powder for the complexion. The Y design is carried over from the YSL IT bags. Personally I'm seeing a G-string. How about you? :P The 2 colours are a peach and brown which can be used together or separately to heighten the cheekbones and sculpt the features.
Click on for more product photos.
The eyeshadow palette that really grabs me by the throat and screams "Look at me!!" is the 5 Color Palette in Twilight.
I see pinks and purples in there that I know will make some girls happy hehe… I know I am. I like the look of this palette. I don't own any of the YSL 5 Color Palettes because none of the previous ones caught my eye but this one will be worth taking a good look at. There is another warm toned palette called Bronze Gold. They may remain as part of the permanent collection as my info doesn't show them as being Limited Edition so there's lots of time to think about this one.
There will also be cream blushes and a brand new Gloss Volupte lipstick which is probably the Rouge Volupte but more sheer. Here are the rest of the collection.
New Eyeshadow Duos and 5 Color Eyeshadow palettes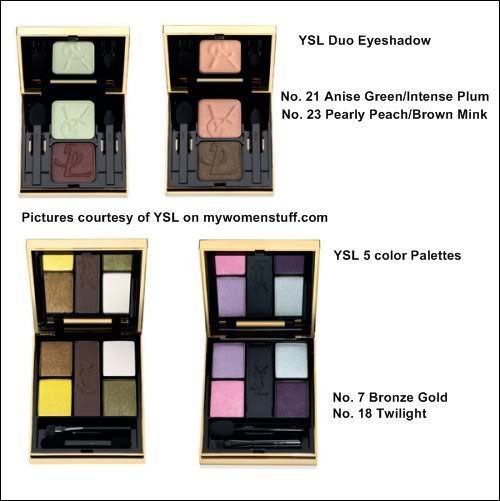 New Gloss Volupte and Rouge Volupte Lipsticks
I have no information on prices yet. I think regular Rouge Volupte lipsticks are RM98 but I stand to be corrected. I may check out the Gloss Volupte lipsticks. I found the Rouge Volupte too strong and too pink/ fuchsia on me so perhaps Gloss Volupte might do the trick.
I'm quite interested in this YSL collection. I'll update with prices when I get hold of the information. For now I'm thinking… maybe a Twilight palette and a Gloss Volupte in Chilled Raspberry … how about you? :)
Stay beautiful,
Paris B