Some days I like my Jimmy Choos … other days I like my Bata slippers. I don't have Jimmy Choos… yet! … but you get the drift. Some days I want my Dior Artistry palette and other days, I glam up with Silkygirl Eyeshadow Blockbuster quads.
Fascinatingly, I was not enamoured with the Dior Green Design palette but I was absolutely smitten with the Silkygirl Forest Green quad. I tried to resist but after 3 trips to check it out at various pharmacies, I caved. At a promotional price of RM18.80 a quad at Watson's, its just too good a deal to pass up! 😛
The Forest Green palette is the best of the whole lot in my opinion. The colours are the most unique and aren't duplicated in the duos. Most of the other palettes have at least 1 colour that appears in one of the duos which made me balk from getting them.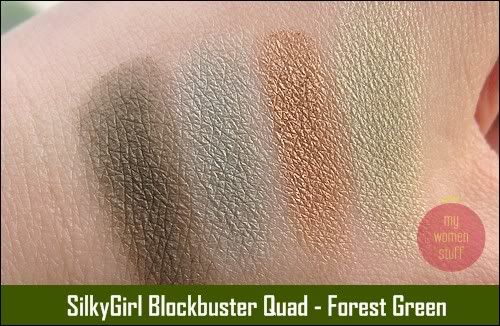 Pigment wise, these palettes are nicely pigmented, showing up well with about two swipes, and I reckon they have the same formulation as the eyeshadow duos. The texture feels hard but if you swipe about twice you get a pretty decent pigment. Not exactly buttery but nothing that needs too much scrubbing for the colour to show up.
I use my fingers but a sponge tip applicator is included. I think these shadows work best either with fingers or with sponge tip applicators. Brushes may cause it to look too sheer unless you have very dense brushes.
You can see from the swatches that the shimmer in the mid-green and the bronze shade are strong, and the khaki and dark green make good contour colours.
I was dithering between getting Forest Green or Smokey Charm but after I'd swatched them both, I knew it was going to be Forest Green by a mile! Here's my inexpert look I did using Forest Green. You can see the colour sheers out a little on the eyes.
The color does fade towards the end of the day, but I wasn't expecting all that much for the price. If you use it over an eye base, you can expect it to last longer. The colours also tend to be a little flat. You pretty much get a solid block of colour without any variance or uniqueness – again I did not expect it for the price.
If you've been curious to see how you look with green eyeshadow (and most brown-eyed girls look stunning in green – it brings out our brown eyes 😉 ) pick up the Forest Green Blockbuster quad from Silkygirl Cosmetics. At RM18.80 (or RM22.90 usual price) you won't break the bank and you'll still look good 🙂 You can see the swatches of the other palettes by PrettyBeautiful and Lipglosseater who both did great jobs of it.
Pros: Affordable, Interesting colour combinations

Cons: Fades towards the end of the day, Colours do not have much variance
Did you try any of the Silkygirl Blockbuster quads? How do you feel about green eyeshadow?
Stay beautiful,
Paris B