Bags are my weakness have no doubt about it! We all have our weak spots so yeah mine are bags 😀 I'm always on the lookout for something new and slightly over a year ago, I featured the Rebecca Minkoff Morning After Bag which is a design I am partial to and I love new designers.
I managed to hold out on the 2 Oroton 50% sales recently despite serious temptation from Tine and Beetrice but I could not resist the Shopbop.com free international shipping offer especially when I saw the Rebecca Minkoff Morning After Mini bag on sale!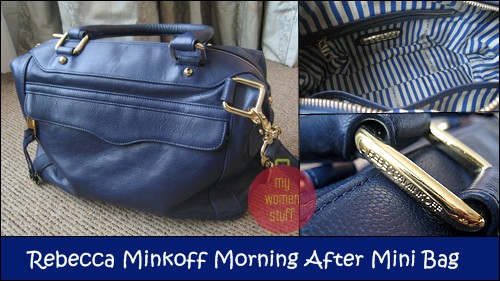 Shopping on Shopbop.com
It was my first ever purchase from Shopbop.com and I'd never have bought it if not for the free international shipping offer (for purchases over US$100 until 30 June 2009 – no code necessary . Usually, shipping from Shopbop.com is astronomical – I've checked. [Note: As at 2012 Shopbop now offers free express worldwide shipping with purchases over US$100]
As I was using a credit card from outside the USA, I was asked to fax over a copy of my credit card or statement and a photo ID which I dutifully did. It was to prevent fraud and I blacked out most of my personal details anyway. A confirmation email was sent the next day with my UPS tracking number which I dutifully checked with the UPS site regularly and with growing impatience each day I had to wait heh….
The bag was delivered by UPS (courier service) which means faster shipping than the usual 2-3 week wait by USPS mail. I placed my order on June 7, the item shipped June 9 and I received the package on June 11. Very nice!

There is a down side however. I was charged taxes at Malaysian customs because the item was declared as a leather bag. I didn't have much of a choice but to pay up because it was already paid by UPS and because I'd have to go through the hassle of returning the bag. It was 10% of the price after conversion into RM. So if you plan to make purchases from shopbop do bear this in mind. I'm not sure if clothes are taxed. [Note: As of 2012 Shopbop now offers an add on tax of 10% for leather products to Malaysia to remove that element of surprise]
Rebecca Minkoff Morning After Mini Bag – Nautical Blue
I picked out the Rebecca Minkoff Morning After Mini bag in Nautical Blue which isn't "mini" at all. Its a good solid design and Nautical Blue is gorgeous! I believe its from Spring/Summer 2009. I don't own a blue bag as I realised when I was obsessing about the DKNY Shopper previously. What a great excuse to get a blue one! 😀
The Morning After Bag is so called because its large enough to be an overnighter yet sleek enough to be carried for daily use. Actually the reason behind the name is much naughtier 😉 The Mini version is a scaled down model which for me, brings it within a size I can wear on my 5'3″ frame. I'm glad I did not succumb when the original model came out as that would have been too big. The double straps are a 6″ drop which makes it just a little hard to sling on the shoulder but can be. There is a detachable long strap included which I thought I would not use but which came in very handy when I had to make a quick overnight trip and juggle a few items at the same time.
The pebbled leather is cowhide and beautifully soft. I read that it gets softer and more pliable the longer you use it and I can see myself using this one a lot!
Nautical Blue is a bit of an odd colour. It is a deep navy blue in some lights, almost black in others but in the sun, takes on a violet hue that's at once interesting and pretty. I don't own a bag in this colour so I'm happy.
Now excuse me while I go off and polish my new baby before I take her out for another spin! 🙂
Stay beautiful,
Paris B