Day 13 of the the 30 lipsticks in 30 days project features a really cheap but great lipstick from NYX Cosmetics. This is the NYX Round Lipstick which was a gift from a friend but a line I would consider getting more from.
NYX Cosmetics Round Lipstick – Peach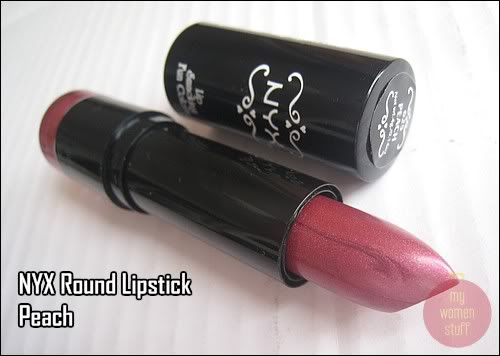 When I first saw the name of the lipstick I thought they labeled the lipstick wrongly. The name was Peach but the colour was nowhere near Peach. In the tube its a metallic deep berry. Again I did a double take but yep! It says Peach on the label.
On the lips, NYX Peach is a Rosy Berry Red with nice high shine. Its a lovely colour, make no mistake – its just not Peach no matter what the label says! I love it but then its my sort of colour 🙂
The NYX Round Lipsticks apply smoothly and are lovely lipsticks especially when you consider the price. Its US$3.50 on the website and often goes on sale on various sites for US$1. At either price, its worth a purchase if you can share in an order some time.
NYX Round lipsticks come in 144 shades so yeah, take your pick! 😀 NYX is available in Singapore or you could also check out the NYX Black Label lipsticks.
Moving onto Day 14 with a lipstick from Bourjois.
Stay beautiful,
Paris B