Ok I know many of you are going "EWW!!!" right about now when you saw the title – admit it. But I hope you're reading this out of curiosity anyway 🙂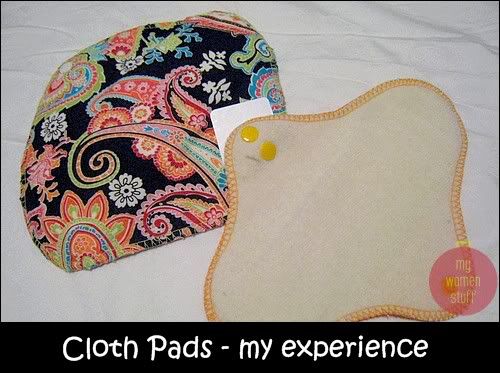 I used to be as well. Everytime I'd read about cloth pads I physically cringe and I thought only those who are seriously into organic or natural or environmentally friendly stuff would actually use cloth pads. The rest of us would still swear by the disposable sanitary pads – use and throw… use and throw… and they sit in the landfills and grow…
But some time last month I felt the urge to try something new and untried by me. What better than cloth pads! I had to try how they felt and whether it was going to be "EWW!!!!"
I headed straight to Tiny Tapir's store and promptly got lost at the mind boggling choices available! Fortunately, Li of Tiny Tapir was very helpful and a quick session at their new Ampang Park store saw me picking up the Moonbow Small Velour cloth pad (RM40) and Cyclez AIO Regular cloth pads (RM25). I intentionally went for bright colours – I don't like pinks so yeah – brighter the better!
I learnt some new terms:-
All in One – All in one cloth pads are one piece items like disposable pads that you snap into place and go.
2 Part Snap sets – A waterproof base and a top soaker. You change just the soaker without changing the bottom that stays on your underwear. It snaps together with buttons.
2 part insert sets – 2 part sets except the soaker is inserted into a slot instead of snapping on. More fiddly I find.
Because I'm new to cloth pads and because I found it hard to "trust" cloth pads fully for my whole cycle, I only bought and used cloth pads for the lighter days. I also got the all in ones because I wasn't sure how I'd like it yet.
I stuck to conventional disposable pads for my heavier days and overnight use. It was unintentional, but it also provided a much needed comparison between disposable sanitary pads and cloth pads in one short time!

Cloth Pads are surprisingly comfortable
I was wary I admit. I'm used to disposable pads and I was used to feeling it there. I use Whisper Ultra (Always in Europe) and I thought that was thin and comfortable enough for me. After trying cloth pads, I'm revising my opinion.
Cloth pads, because they are cloth, feel like you're wearing nothing. It can be a bit worrying. I kept thinking "Is it doing its job? Am I going to leak?" but nothing untoward happened and I got through the day fine. Do bear in mind it was a light day.
Both the Moonbow Velour pad and the Cyclez AIO microfibre pad kept me feeling dry which was another quite surprising feel. I was used to the slightly clammy feel disposable pads give you so it was another surprise not to feel awful down there. Cool and breathable are the words I'm looking for.
Oh and I don't know about you but I sometimes feel weird if I hear the slight crackling sound of plastic when I walk or when I stand, wondering if people around me are hearing them too; and cloth pads have solved that problem by not give me that feeling. One more thing – no rash. Yay! 😛
Cloth Pads do not smell
We all know this one. The smell we associate with pads after they are used. I was bracing for the smell but there was none. I'd read that the smell is actually caused by the reaction between the blood and the chemicals in the disposable pad. Now having tried cloth pads, I might have to agree with that.There is a slight smell but nothing super unpleasant.
Cloth pads can be a hassle
I know this is the part most of you are waiting for. Yes, cloth pads are a little bit of a hassle and its not for the squeamish. At the end of the day though, when you think about it, thats your own blood and despite what we have been indoctrinated with, its not dirty. So really, its nothing to get all that squeamish about.
If you're out and want to change it you can roll it and snap it shut in a neat little package. Then place it in a waterproof bag and that's it. When you get back home you can clean it.
Here are some questions I asked and which I thought you might want to know the answers to too.
How do you clean a cloth pad?
After using, place the cloth pad into a basin or container of COLD tap water. Hot water will cause blood stains to set into the cloth. Soak for a day.
Rinse the cloth pad out until clean and wash with your clothes in the washing machine. Line dry.
Because I only had 2, I'd soak them for a few hours with some soap powder then rinse and wash them out by hand and line dry so I had enough to use. It dries surprisingly quickly and yes I did get over the squeamish feeling after a while. Its also not THAT bad to rinse it out.
How long can you wear cloth pads for?
You can wear cloth pads for about the same length of time as you wear your normal disposable pads. For a light flow it should hold up for up to 5 hours. I didn't take it longer than that because I didn't want to court trouble at the office! 😛 Because they didn't get clammy and actually kept me feeling cool and dry, it was quite hard to say when they really needed changing. That's actually a plus point by the way.
Do cloth pads leak?
Not unless you wear it longer than you should. The pads come with "wings" that snap shut to hold it securely on your underwear. The part against your skin is usually soft absorbent material.
Moonbow uses bamboo/ organic cotton blend velour which is SUPER soft for the top. The part that soaks up the blood is of cotton/ bamboo fleece and the backing is Merino wool jersey. It might surprise you to know that wool is actually a naturally waterproof material.
As for Cyclez AIO the part against the skin is plush microfleece and the soakers are also microfleece. If you do sports, you may be familiar with the use of microfleece in sports wear and winter wear as it wicks moisture away from the skin to keep you feeling dry. They can seriously soak up A LOT! I did an experiment using a basin of water. Yep, they can soak up a lot indeed! The bottom part is a waterproof PUL (Polyurethane Laminate). That is a soft, polyester knit fabric laminated with 1 or 2 mil polyurethane on the back. Also used in cloth diapers – nice to know because babies diapers sure have to hold more fluid than a menstrual pad! 😛
Are cloth pads bulky?
They look bulky and I'm used to ultra thin sanitary pads. The Cyclez one did feel a little bulky on when compared to Moonbow which feels like nothing on. Also, I found that the Cyclez one also felt a little warmer than Moonbow which seems to stay cooler.
Am I a cloth pad convert?
Partially so. I may try the more heavy duty ones for heavier flow and overnight use next time. This time, I was just too unsure of what to expect. I'm happy with my little experiment and I can say I've "been there done that". Of the 2 brands I tried, I prefer Moonbow – it was thinner, less bulky, cooler and just more comfortable overall.
I will continue using these cloth pads for my light flow days and gradually add in the ones for heavy flows. It might seem a little pricey up front but when you think of the money you'll save from buying disposables over the years, it doesn't work out all that much in the end. After all a cloth pad can last you years with proper care. A worthy investment I must say.
Note: I have not used any inserts e.g. tampons, Mooncup or Ladycup and so cannot compare how it feels.
You can read the first experience with cloth pads of my blog buddy Giddy Tigress over at Kaki Shopping who features some other brands available. She started with cloth pads over a year ago and is still going on strong I think.
Have you tried using cloth pads? Will you try it? Do share your experience or concerns – it'll be a learning experience for us all.
Stay beautiful,
Paris B