If you have read my introduction on REN Skincare and my review of the REN products I have tried, I hope you have subscribed to the REN Community through the email given. I promised you something good would come out of it, and something has 🙂
REN Skincare is running a "If Your Skin Can Talk Workshop" and they have allocated 30 places for readers of My Women Stuff! How cool is that?! 🙂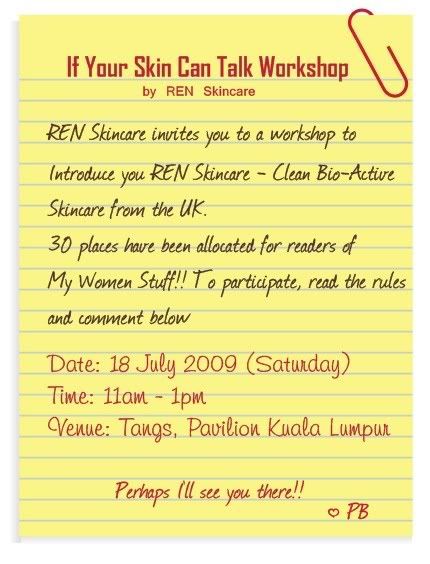 Here's what you have to do:-
Be a member of the REN Community. If you missed it, here's the sign up again (please comment using the same email address) – Send an email to [email protected] with your Name, Address, Contact number, Current Skincare and State your interest in getting updates on REN skincare. The email address is not maintained by me but by the folks at REN Skincare and information will be collated by them. I have no access to your info.
Leave a comment below by completing the sentence "If my skin can talk…" in not more than 20 words.
Be able to attend on the date and time specified above.
Deadline for participation: 29 June 2009 (12 noon)
30 lucky participants who are part of the REN Community will be chosen by the people at REN from the comments below First 30 to leave a comment are eligible to attend this workshop so be as creative as you can and keep the morning of 18 July 2009 free! 😀
Ready? Go!!
Stay beautiful and good luck!
Paris B