Day 10 of the 30 lipsticks in 30 days project features my most indulgent lipstick of all time by Giorgio Armani cosmetics.
Giorgio Armani Shine Lipstick – #4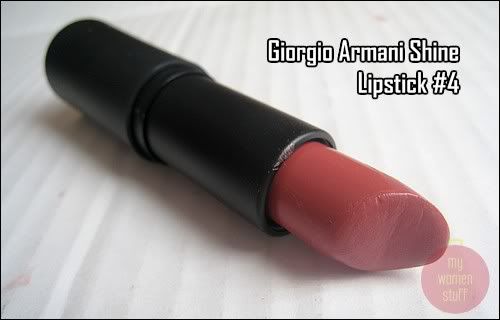 When Giorgio Armani first open its doors at Isetan KLCC I had a makeover done by one of their makeup artists that stunned me so much I bought nearly everything she used haha… among them was the Shine Lipstick #4.
I'm so happy I did because #4 is what is known as a "my lips but better" colour. A colour close enough to your natural lip colour yet makes it look smoother, plumper, brighter, shiner, prettier… and all words ending with -er 😛
#4 is a rosy toned lipstick that has a slight shine but no shimmer. Its a lipstick I used everyday for work until I only have about 1/4 of it left. That's when I snapped to my senses because it means I love it that much and its that expensive I couldn't think of getting another for a while! I bought it at about RM75 then but its now RM88 so pick it up before it goes into 3 digit prices!
If I can't wear Armani, I'd buy the lipstick goshdarnnit! 😛 Hence the Lipstick Economy LOL…
We're going to highlight a Giorgio Armani lipstick star pick in Day 11 so watch out for it!
Stay beautiful,
Paris B