Uh ok… I seem to be saying I love the lippies from this brand and that brand and wait a minute… isn't that why I'm running this project anyway? Teehee… Dior Addict lipsticks are up there among my top favourite brands for lipsticks.
Unlike some of the other lipsticks I have, Dior Addict lipsticks have a softer sheerer smoother texture and glide onto your lips like butter yet have a lovely shine that some others lack.
Dior Addict Lipstick – Rose Vision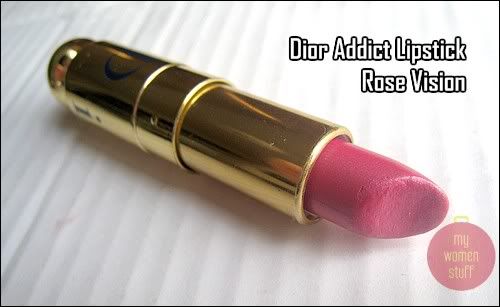 I'd used Dior lipsticks before but it was not until Dior Addict lipsticks appeared on the scene that I truly fell head over heels for them. I bought my first and then scoured their warehouse sales for the different colours available so now I own a goodly selection of colours 😀 I'm clever eh? 😉
Rose Vision is one such lipstick. A gorgeous rose pink shade with shine not shimmer. It slides on my lips like butter, does not dry out lips and feels like nothing on and lasts a long time. Yet unlike some others, its pigmented so one swipe is enough to get the colour and shine on. Mmm… I like!

Picture shows lipstick swiped 2 times on lips.

Rose Vision is one of the few pink lipsticks I can wear without looking like Barbie. The colour is pink tempered with rose and I loved it so much, and used it so often, what you see is about all there is left in the tube! Since people have been asking why I feature new looking lippies, I thought I'd feature some of the more messed up ones 😉 That said, I do take care of my cosmetics so they aren't too messed up or anything.
Dior Addict lipsticks retail for RM75 and come in a whole range of colours and they all have that lovely buttery smooth texture. The Addict range I'm referring to is the one with the opaque navy blue cover. The others e.g. the transparent blue cover, pearly white cover etc are spin offs and tend to be on the sheer side. You might see one or two make an appearance in the coming weeks. I believe Rose Vision may be discontinued as a colour , but the Dior Addict lipstick line is still available and absolutely worth a look.
Day 13 takes things down a few notches with NYX Round Lipstick in Peach.
Stay beautiful,
Paris B