Day 8 of the 30 lipsticks in 30 days project continues with the Asian lipstick theme. Shu Uemura rather straddles the Asian-Western brand divide for me but I'll place it under Asian this time as a tribute to the late Mr. Uemura.
Shu Uemura Lolishine Lipstick #332
I'd owned a couple of other Shu Uemura lipsticks before this but never really found anything that I really liked. That was until Shu Uemura came up with the Lolishine Rouge line and suddenly I had something I liked! The problem is that I must be the only one liking it because the Lolishine Rouge line is now discontinued 😛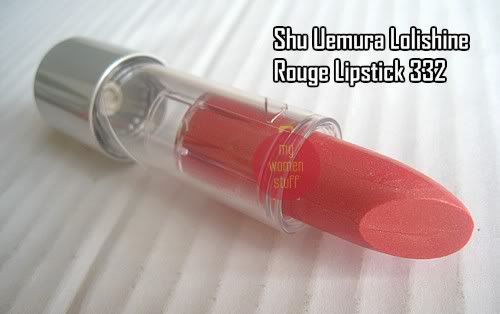 Nevermind its one I had to pay homage to anyway 🙂
Why I like the Lolishine Rouge line might be due to the fact its very similar in texture to the Japanese lipsticks I favour. Its sheer, shimmery and without scent. Everything I like in a lipstick.
332 is an orangy coral in the tube but applies a sheer light pink with little shimmer. Looks rather like nothing on my lips but in truth its a very light pink.

I like using this for everyday – it goes with everything. Its also one of the few pink lipsticks I can wear without looking washed out or dead. 😛 In person not much color shows up and its mostly shine. Pity the Lolishine Rouge line is discontinued. I liked some of the other colours and should have picked up more when I had the chance!
Shu Uemura lipsticks are RM68 at counters. Presently, you'll find Rouge Unlimited lipsticks there – strong pigmented colors that work a treat if you like them.
Onto Day 9 and my favourite lipsticks from my favourite brand of all time – T'estimo !
Stay beautiful,
Paris B