Day 7 of the 30 lipsticks in 30 days project continues with another Japanese brand of Lunasol.
Lunasol Intellectual Lips Lipstick – #10 Pure Pink
Pink isn't my colour of choice for lips, so when I picked up the Lunasol lipstick in #10 Pure Pink, I surprised even myself.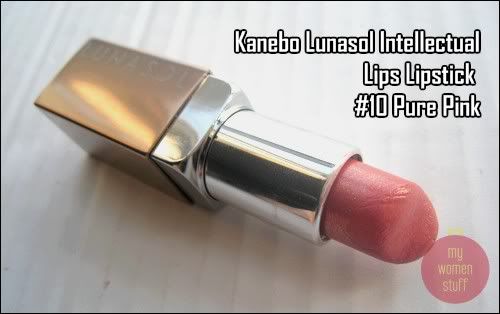 Like most Japanese lipsticks, I've tried, the texture is very smooth and the colour tends towards the sheer and there is no scent. Despite its name – Pure Pink – the colour goes on my lips a very very light rose-pink with shimmer.
I think it might be because my lips are naturally quite pigmented so it doesn't show up as much as it should. If you have lips that are more pale then it might show up slightly more rosy. Somehow I can't get the color to show up in pictures – tells you a lot about my lipstick color preference 😉
Lunasol lipsticks retail for RM88 at all Kanebo counters. I think its worth it but then I'm a little biased because I've had a partiality towards Kanebo cosmetics for a long time 🙂 I've used the lippie so much the picture shows all that's left! You can read my more in depth thoughts in my previous review.
Watch out for Day 8 when we'll see a Shu Uemura Lolishine lipstick!
Stay beautiful,
Paris B