Day 3 of the 30 lipsticks in 30 days project and we have a star pick of Lancome lippies. It has to be Lancome's L'absolu Rouge a new and revamped line of lipsticks from Lancome Cosmetics.
Lancome L'Absolu Rouge – Rouge Rayonnant 47

Lancome L'absolu Rouge lipsticks come in a really cute case. The sleek black over snaps shut with a magnet unlike the conventional click mechanism. I sat for hours just playing with it. Ok, I exaggerate – it was at least half an hour while I waited for bureaucracy to entangle itself in red tape 😛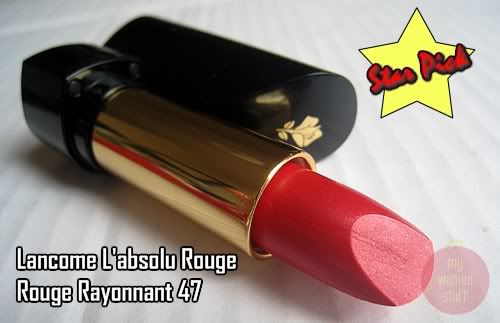 The color I have is Rouge Rayonnant 47 which is a gorgeous rose-red colour with slight warm gold tones. The texture of the lipstick is smooth and creamy, just sliding onto my lips like satin. Lancome says its from its pro-xylene technology. I just say that its an awesome lipstick that gives you lovely colour.
Pigment is strong yet it goes on a little sheer at first. You can actually build up the colour to look just like it does in the tube. I use this day and night – for the day, its just 1 or 2 swipes and for night, I build it up for intensity.
If you are afraid of red lipstick, try starting with this one. You can apply it as sheerly or as strongly as you like and build up your tolerance to wearing red on your lips 🙂
Despite the strong color (its stronger in real life), the texture is still surprisingly creamy and moisturizing and it contains SPF for those who'd like that. I'm making this one my Lancome star pick! In the picture below, its just 2 swipes for a day look. Still pretty bright eh?
Lancome L'absolu Rouge lipsticks retail at all Lancome counters for RM75 each. Absolutely worth it. I want more! 😛
Day 4 will feature Chanel Infrarouge in Matador so come back then!
Stay beautiful,
Paris B