No m'dears I didn't run out of ideas – just ran out of time 🙂
Day 24 of the 30 lipsticks in 30 days project features another favourite lippie from the Dior Addict High Color line. Its no secret I love Dior lipsticks – they aren't the cheapest around but I think they rank amongst the best.
Dior Addict High Color – Provocative Pink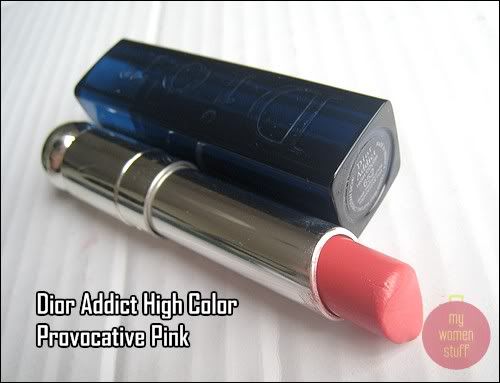 With a name like Provocative Pink you'd expect a bright bubblegum pink. I was afraid of that happening. Thankfully, Dior Addict High Color Provocative Pink is a pink with hints of peach in it. It actually does not look pink at all in the tube!
Dior Addict High Color has a unique formula that allows it to cover your lip with the color as you see in the tube. So yes, what you see in the tube is pretty much how it'll look on your lips.
The colour slicks on easily with no scent – a plus point. I like how the color looks and I love how sleek the packaging is. I got it some time in March this year and already a lot of it is gone! :O
You can see Capricious Coral and a more in depth review of the Dior Addict High Color lipsticks in a previous review. Just click on the link 🙂
Stay beautiful
Paris B